Main content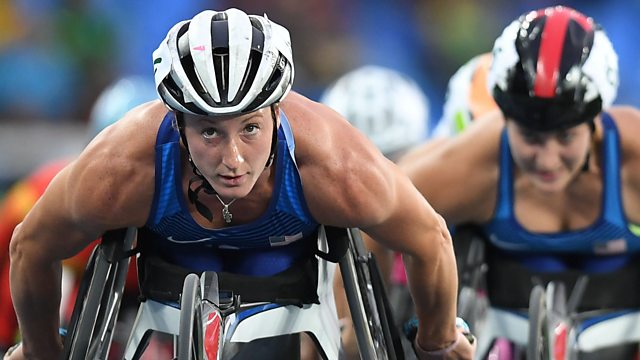 "I cried watching the film" – McFadden on Rising Phoenix
17 time Paralympic medallist Tatyana McFadden on a new documentary on the Games.
We speak to seventeen time Paralympic medallist Tatyana McFadden and director Ian Bonhote ahead of the release of a major new film about the Paralympic movement.
McFadden is one of nine athletes featured in Rising Phoenix and she recalls spending time in a Russian orphanage, being adopted and moving to America and then being reunited with her birth mother at Sochi 2014. McFadden tells us she isn't ruling out competing in another Winter Games and that she hopes to continue her career until the Los Angeles Paralympics in 2028.
Ian Bonhote has previously worked on advertising campaigns with Lionel Messi and Tiger Woods and he tells us it was important to give the athletes in Rising Phoenix their own spotlight. He also tells the story of Jean-Baptiste Alaize. The French athlete – who features in the documentary – witnessed his mother's murder as a child and was hacked with machetes and left for dead himself.
David Diamante speaks to us ahead of Katie Taylor's world title fight against Delphine Persoon. Diamante is one of the most recognisable ring announcers in boxing and he tells us how he got into the sport, why he says every fighters surname twice and explains just how seriously he takes his role in announcing the results. Diamante also reflects on being clean of drugs for twenty seven years, saying: "living sober is absolutely wonderful".
Cheryl Foster joins us after she was promoted to Uefa's list of elite referees. The Welsh official tells us she had been due to take charge of one of the quarter-finals in the Women's Champions League this week before the Covid-19 pandemic and a subsequent lack of match action ended her hopes.
We catch up with Australian swimmer Chloe McCardel after she broke the men's record for the number of English Channel crossings. She reached thirty five after completing four crossings in recent weeks.
In Sporting Witness we go back to the 2002 Commonwealth Games in Manchester, when the performance of the Indian women's hockey team inspired a Bollywood film.
And – with live sport continuing this weekend we look ahead to the Champions League final and we check in at the AIG Women's Open golf and the second test between England and Pakistan.
Photo: Tatyana McFadden competes in the women's 5000m in Rio (Credit: Getty images)
Last on
Broadcast