Main content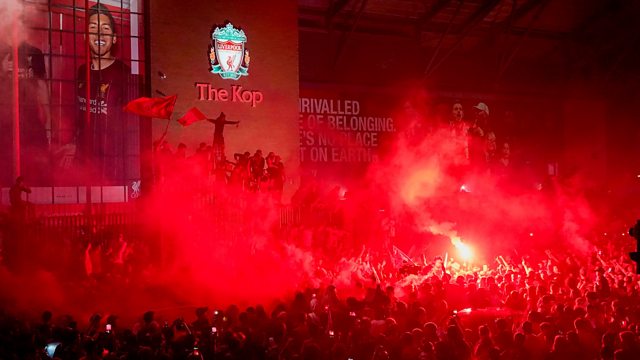 Premier League dreams come true after 30 years of waiting
After they were crowned Premier League champions for the first time, we look at Liverpool's incredible season and their first top-division title in 30 years.
Liverpool and the end of their long wait for the Premier League title - For some Liverpool fans, seeing their side end a thirty year wait to be crowned English Champions was bittersweet as they had loved ones who didn't live to see it. Mark McVeigh joins us to talk about his son Owen, who died of leukaemia at the age of eleven. Father and son travelled home and away together to watch Liverpool and there's a flag in Owen's honour on the Kop. Mark admits its been an emotional time and he also tells us about the Owen McVeigh foundation, which works with children suffering from Cancer. We're also joined by the Mayor of Liverpool - Joe Anderson - who tells us the club will have a title parade when the time is right.
Terry Willis is walking from his home in Alabama to the scene of George Floyd's death in Minneapolis for "change, justice and equality". Willis tells us what happened to Floyd could have happened to him. While, Tamara Moore, who is the only female coach of a men's college basketball team in America, was so inspired by Terry's story that she contacted the BBC World Service. She's since grown close to Terry's family and has even dubbed him the "Black Forrest Gump". They come together to chat about what needs to change in America and how sport can help lead that change.
Could Major League Soccer stars refuse to play to force social change? - Chicago Fire forward CJ Sapong joins us to talk about the recently formed Black Players Coalition of MLS. Sapong is a board member and says: "If we are using our platforms to bring awareness to these social injustices but then get on the field and continue to play, have we really provided any change?".
Sleeping in the back of a van and trying to find her form after injury - Golfer Sophie Powell joins us to discuss playing in the Rose Ladies Series. Due to the covid-19 pandemic, Powell has been sleeping on a blow up mattress in the back of a borrowed van ahead of playing at each venue. She also tells us how falling out of a moving golf buggy cost her two years of her career.
The FA Cup returns without fans - Due to the covid-19 pandemic the FA Cup will be played behind closed-doors this week. Jack Dormer and Alex Rowe had previously been to a game in every round of the competition. They started in the very first preliminary rounds, which were almost a year ago and then followed the winning team in each game until they get knocked out. They then followed the team that beat them. They tell us about their experiences and how they're getting their FA Cup fix this week.
And in Sporting Witness, we go back to 2004, when the first All Star Cheerleading world championships were held at the Disney resort in Florida. It was a big moment for a new sport which is about demanding group routines featuring coordinated tumbles and stunts rather than supporting a sports team from the sidelines. Ambrel Brannon, one of the first cheerleading world champions, tells us about a sport that's becoming increasingly popular around the world.
Image: Liverpool fans celebrate winning their first ever Premier League title. (Getty Images)
Last on

Broadcast