Main content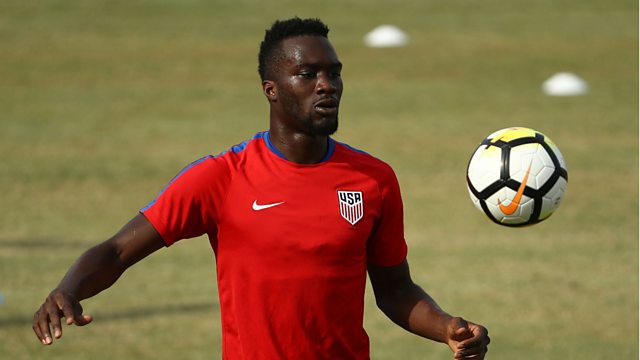 'You have people wishing death upon another human because they disrespected a flag' - CJ Sapong
Chicago Fire forward CJ Sapong on the US Soccer Federation's decision to re appeal it's policy requiring national team players to stand during the national anthem.
Chicago Fire forward - CJ Sapong - tells us he welcomes the US Soccer Federation's decision to repeal it's policy requiring national team players to stand during the national anthem. Sapong - who has played for the US Men's National Team - believes a situation has been created around the national anthem, which equates to: "if you're not loyal to this flag...you deserve to die". He also recalls an incident where his family were confronted at a high school soccer game because someone in the crowd felt he had disrespected the national anthem.
"My heart was broken. I'd given up." - Former AFL Star Adam Goodes describes the toll racist abuse took on him and how being abused by a teenage girl during a game set in motion a chain of events that saw him walk away from the sport in 2015. He also speaks about the importance of athletes using their platforms following George Floyd's death.
Nessun Dorma and Italia 90 - Thirty years on from the 1990 World Cup, the BBC's Head of TV Sport - Philip Bernie - tells us how and why the song was chosen as the soundtrack to the corporation's coverage.
"I was really shocked" - the fourteen year old snooker player given a tour card for the next two seasons by the World Snooker Tour. Ukraine's Lulian Boiko tells us how he got into the sport, what it was like meeting his hero Mark Selby and his hopes for life on the circuit. He was rewarded with a tour card after producing exceptional performances at leading international amateur tournaments over the last year.
Powering the NHS - Sam Cox tells us how he's delivered over fifteen thousand meals to NHS hospitals across London during the covid-19 pandemic. The professional boxer says it's his way of giving back after he lost his mother to cancer last year and for the way the National Health Service helped him when he was younger. Due to a growth hormone deficiency Cox was still the size of a six year old boy at the age of fifteen.
Super Rugby - The competition returned in New Zealand this week and crowds were able to attend. New Zealand's first female rugby commentator - Rikki Swannell - joins us to discuss how it went.
And in Sporting Witness - we tell the story of arguably the greatest upset in the history of the ancient Olympic sport of Greco-Roman wrestling. American Rulon Gardner discusses how he defeated a previously unbeaten Russian champion. It was a David-and-Goliath-style battle that made headlines around the world.
Last on
Broadcast