Main content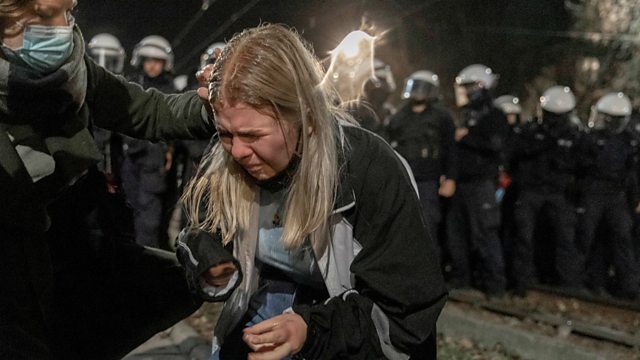 Abortion law in Poland
We discuss the court ruling that almost completely bans abortions in Poland
In Poland, police have used pepper spray against hundreds of people protesting against the country's top court ruling that makes abortions in cases of foetal defects unconstitutional. We get reaction from Polish women.
We have an update from Nigeria, following the shooting of protesters this week. One of the main groups behind the movement against police brutality, the feminist coalition, has encouraged young Nigerians to stay at home and follow curfews. We'll ask whether this marks the end of a wave of protests.
Today's medical expert to discuss the day's developments with Covid-19 is Dr Megan Murray from Harvard University. We get her thoughts on the decision by US regulators to give full approval for the antiviral drug remdesivir to treat Covid-19 patients in hospitals.
And, as part of the BBC's "US Election 2020: What the World wants", we've been getting questions and messages from around the world about the United States and November's election. BBC Presenter and co-host of "Americast" podcast, Emily Maitlis, joins us to answer some of the questions and to discuss the key moments from last night's presidential debate.
(Photo: People block a street near the house of Law and Justice leader Jaroslaw Kaczynski during a protest against imposing further restrictions on abortion law in Warsaw Credit: Jedrzej Nowicki/Agencja Gazeta via REUTERS)
Last on
Broadcast