Main content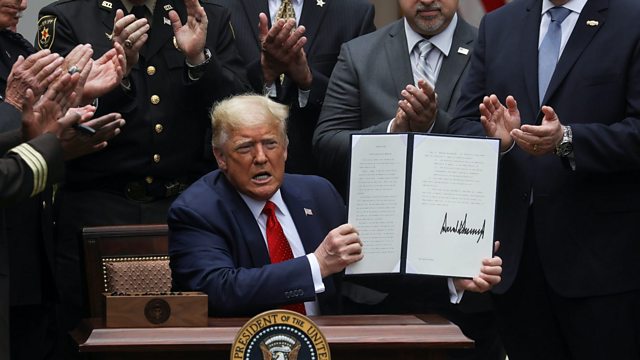 Trump signs executive order on policing
The President staunchly defended law enforcement, amid calls to defund the police.
President Donald Trump has signed an executive order introducing police reforms. It offers federal grants to improve police practices and comes amid anger over the killing of African Americans by police officers. Mr Trump said the police played an essential role in society, which must be protected and he said he would not support attempts to defund and dismantle police forces. However, activist and Yale University academic Philip McHarris tells us why he believes defunding the police is the way forward.
There have been a clash between Chinese and Indian troops in the Galwan valley in Kashmir, along the disputed border between the two countries. The Indian army says twenty of its soldiers were killed. China admits it suffered casualties but did not say how many. How is this seen in India?
Also in the programme, the overall unemployment rate in the US for May fell - surprising economists - but the unemployment rate for African Americans went up, making it the highest jobless rate for the black Americans in more than a decade.
And - we investigate how much has the coronavirus pandemic hit remittances world-wide.
Plus, the European Commission has launched an investigation into claims the US technology giant Apple has breached competition law.
And, football in England is back, but without spectators. We ask if the home advantage is lost under those circumstances?
Presenter Jamie Robertson is joined by guests Alison Van Diggelen in San Francisco and Jyoti Malhotra in Delhi.
PHOTO: President Trump signs an executive order on police reform/Reuters
Last on

Broadcast