Main content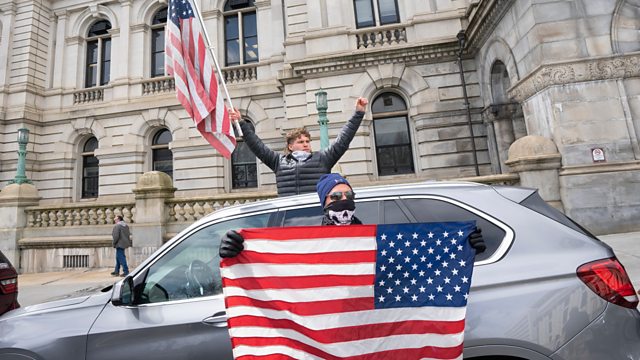 How long can the lockdowns last?
Global business news, with live guests and contributions from Asia and the USA.
On Sunday, protesters in Olympia in Washington State in the north west of the US, demonstrated against the stay-at-home rules. It was one of several protests across the US, even though the country reported its highest daily increase in deaths on Monday. We hear from Jennifer Benz, Deputy Director at The Associated Press-NORC Center for Public Affairs Research at the University of Chicago. We head to India where for many, the restrictions on work and movement during this coronavirus lockdown are miserable and deeply worrying; the BBC's Rahul Tandon reports. The take-over of Newcastle United has turned into an argument over human rights, middle eastern politics and intellectual property rights. We hear from AP's Rob Harris and Newcastle United fan, Adam Widdrington. It's Earth Day, but will a post-COVID-19 world be a greener world? We hear from Tom Rivett-Carnac, co-founder of Global Optimism. Plus, the ending of the lockdown in China has encouraged thousands of people to visit some of the country's best known sites but at one attraction, authorities are banning visitors who have been in high risk Covid-19 areas; we hear from the BBC's Kerry Allen. And we're joined throughout the programme by Robin Harding, Tokyo Bureau Chief for the Financial Times and Alison Van Diggelen host of the Fresh Dialogues podcast.
(Picture of protesters calling for New York State to be re-opened, by Stefani Reynolds for Getty Images).
Last on
Broadcast