Main content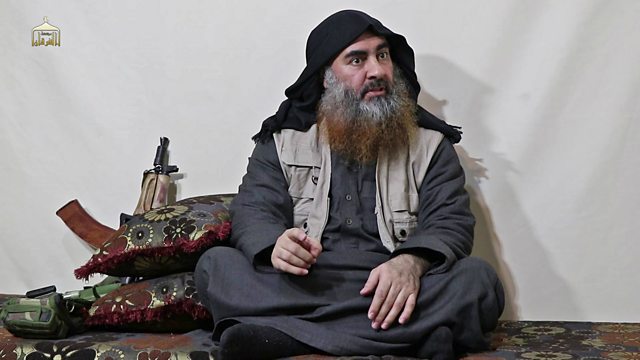 Reports suggest that Islamic State leader has been killed
Trump to make a statement on operation against IS leader; US paratrooper on new book
President Trump is to make a statement at the White House after reportedly ordering an operation against the leader of the Islamic State group. We'll hear from Iraq on reports that the IS leader has been killed.
Also in the programme: A former US paratrooper talks to us about his new book 'Goliath: why the west doesn't win wars, and what we need to do about it'.
Joining Paul Henley to discuss these and other issues are Gisela Stuart, chair of the pressure group, Change Britain, which campaigns for the UK's exit from the European Union. Gisela is also a former member of parliament for the centre-left Labour Party; and also, Jonathan Steele, a British journalist and author.
(Image: Abu Bakr al-Baghdadi, leader of the Islamic State group. Credit: Getty Images)