Main content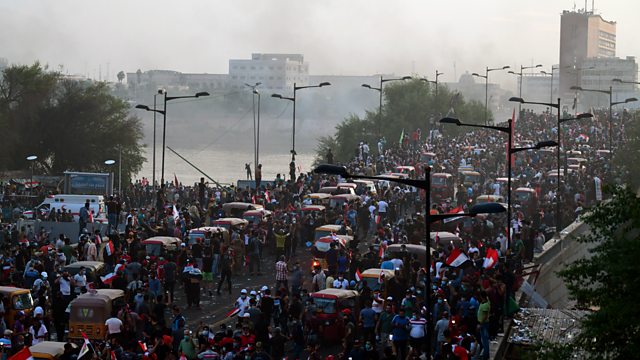 Protests force the hand of Iraqi MPs
Iraqi MPs start indefinite sit-in in parliament; battleground states on Trump impeachment
A group of Iraqi MPs have started a sit-in inside parliament to force the government to accept protesters' demands. We have the latest from Baghdad.
Also in the programme: As the impeachment inquiry into President Trump rumbles on, what's the view of those in the key battleground states that will decide next year's election? We go to Pennsylvania.
And, the giant Australian rock, Uluru, is now permanently off limits. There's a ceremony today to mark its closure to the public. We hear why it's such a significant landmark...
Joining Paul Henley to discuss these and other issues are Gisela Stuart, chair of the pressure group, Change Britain, which campaigns for the UK's exit from the European Union. Gisela is also a former member of parliament for the centre-left Labour Party; and also, Jonathan Steele, a British journalist and author.
(Image: Iraqi protesters gather over the Al-Jumhuriya Bridge that leads to the headquarters of the Iraqi government. Credit: EPA)