Main content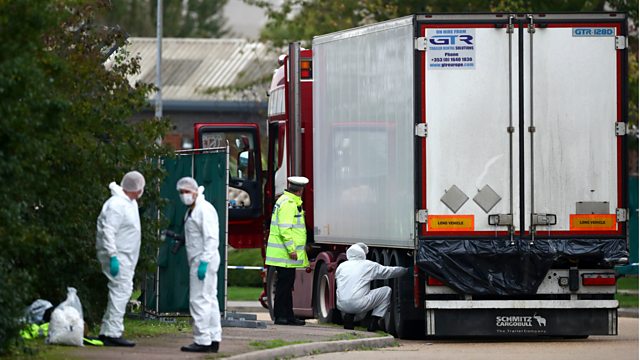 UK lorry deaths: police continue to question driver
39 people were found dead in a refrigerated container near London.
Police in Northern Ireland have searched two properties said to be linked to the deaths of 39 people who were found dead inside a refrigerated container in the South East of England. The lorry is registered in Bulgaria to an Irish company, according to the Bulgarian authorities. The container arrived on a ferry in one of Britain's smaller ports, which police say are being used by people smugglers now because they have less sophisticated security equipment.
Also on the programme, today in Spain feelings are high as the body of General Franco is being exhumed from its mausoleum to be reburied next to his family. We hear from a man who was imprisoned by Franco, and who has campaigned for this to take place. And could rent caps help curb the burgeoning housing crisis in Berlin?
(Picture: The scene where bodies were discovered in a lorry container. Credit: McKay / Reuters)