Main content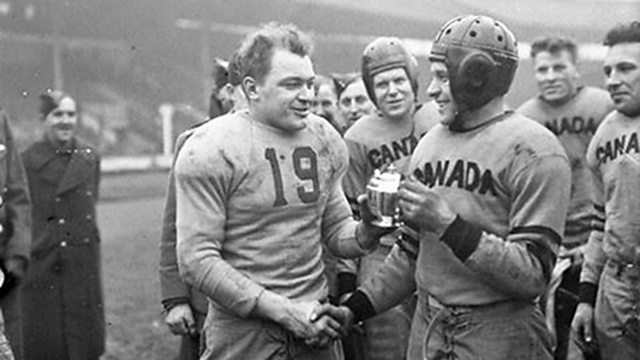 The NFL games that stopped World War Two
In 1994, 50,000 people watched an American Football game in London during World War Two
Monday 11 November is Armistice Day in the UK, where the country remembers those who fought in World War One and World War Two.
To mark this occasion, we go back to 1944 and a moment of respite from the strain of war... You might think that American football being played in front of full houses in England is a relatively new thing, but 75 years ago, with D-Day looming, 50,000 people watched an American football game featuring NFL and Canadian Football League stars at White City Stadium in London
Sportshour brings you the story of the Tea Bowl and Coffee Bowl - The Gridiron games that stopped the second World War.
We'll also be live with our athletics team in Dubai, as the World Para Athletics Championships continue. The event will be a big indicator of who to look out for at the Paralympics in Tokyo next year.
And England's women's footballers will play in front of a sell-out crowd at Wembley Stadium for the first time on Saturday when they play Germany.The attendance will smash the 45,619 record for an England Women home fixture, which was set at the last meeting with Germany at Wembley in 2014. We'll be speaking to a former England star about what the occasion will mean for the players.
(Photo: Private First Class Frank Dombrowski (left) of the United States and Major William Denis Whitaker (Canada), rival captains of the teams playing in the Canada-United States "Tea Bowl" football game at White City Stadium, London, England. Credit: Library and Archives Canada/Department of National Defense)