Main content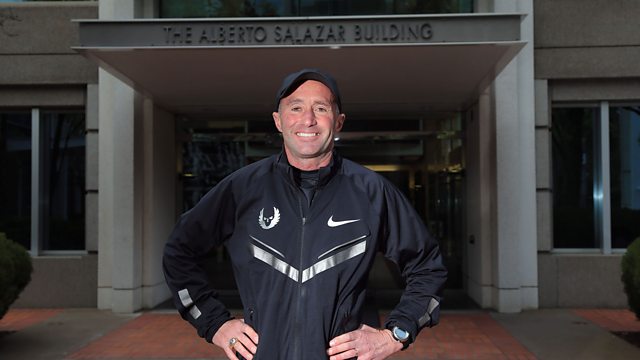 Alberto Salazar: The inside story
The story of how a top athletics coach was banned for four years for doping violations.
For years there had been rumours. But they were just that - rumours. Then in 2015, a BBC documentary accused one of the world's top athletics coaches of being involved in widespread doping. This week, Alberto Salazar was banned from the sport for four years after an investigation by the US anti-doping agency. Salazar runs the Nike Oregon Project, which has been home to some of the world's leading athletes, including, until two years ago, Britain's four-time Olympic champion Mo Farah. Mark Daly, an investigative journalist for the BBC, has been following this story for more than four years. He tells Caroline the process behind making the documentary and how he got key witnesses to speak up.
We're riding the waves with one of the top names in surfing, Mercedes Maidana. In her own words, she was "truly living the dream, travelling the world chasing waves, until one incident that changed everything". In 2014, Mercedes suffered a head injury at a competition in the United States. She lost her career, sponsorship, house and even her relationship with her husband. Five years on, she now wants to raise awareness of concussion in a sport where it receives little attention.
A new sport at next year's Olympics is climbing. We're in Slovenia speaking to the 20-year-old phenomenon Janja Garnbret, who is already the most successful competitive climber in history. Hear her journey of how she got into the sport and how she is hoping it will be a success at the Tokyo Games.
Tottenham Hotspur are away at Brighton this weekend in the English Premier League. But there will be football at their new stadium in north London - American football. The Tottenham Hotspur Stadium will host its first-ever NFL game as it welcomes the Oakland Raiders and the Chicago Bears. Joining Caroline on the programme will be a Spurs legend! He scored goals for fun during his 17-year football career, but he also played a season for the London Monarchs American football team. Clive Allen will explain all.
Former Australia and Saracens fly-half Michael Lynagh tells Caroline Barker that it is "a miracle" he survived after suffering a stroke in 2012. Seven years on, the World Cup winner is now a commentator, and he tells us his thoughts so far on the 2019 World Cup, plus the key ingredients for winning such a prestigious competition.
David Rudisha's name means "to return" in Swahili, and that is exactly what the Kenyan is planning to do. The double Olympic champion is aiming to win a third Olympic gold medal at the Tokyo 2020 Olympics. The world 800m record holder has not competed in the last 18 months due to an injury, and he also escaped unhurt in a car accident earlier this year. This week, Rudisha has been speaking to the BBC's Celestine Karoney about his comeback and how he's been dealing with tragedy in his personal life.
Picture - Alberto Salazar (Credit - Getty Images).