Main content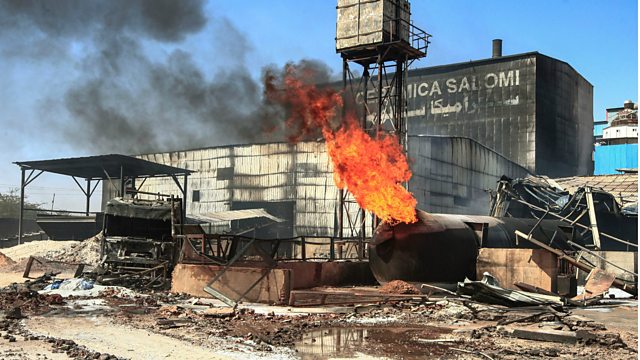 Fifteen dead in Sudan factory fire
Dozens more were also injured at a ceramics factory in the Sudanese capital Khartoum
At least fifteen people have been killed in a huge fire at a ceramics factory in the Sudanese capital Khartoum. Doctors say dozens more were injured. The fire is believed to have been caused by an explosion which was so powerful it set fire to cars parked outside. We get the latest.
Also, we return to the international climate change conference, COP25, in Madrid where scientists say average temperatures from 2010 to 2019 look set to confirm the decade as the warmest on record.
And we go to the Nato meeting near London, where the French president, Emmanuel Macron, has defended his stance on the alliance after meeting US President Donald Trump.
(Photo: A burning gas tank at the scene of a fire at a tile manufacturing unit in Sudan. Credit: Ebrahim Hamid/AFP via Getty Images)