Main content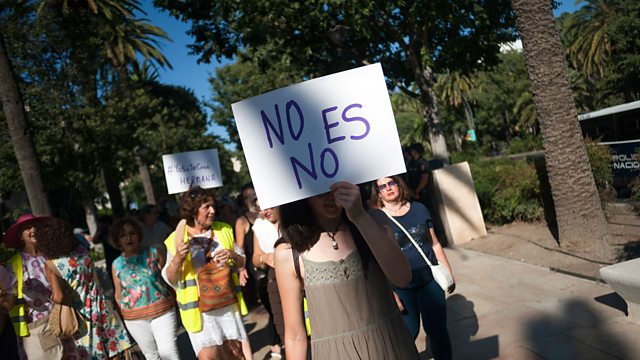 Anger in Spain over gang-rape ruling
Instead of rape, five men have been jailed for the lesser charge of sexual abuse.
We bring together Spanish women to discuss a court's decision in Barcelona to acquit five men accused of gang-raping a 14-year old girl of the most serious charges of sexual crime. The men were convicted and jailed for the lesser crime of sexual abuse because under Spanish law rape is ruled out if a victim is in an "unconscious state".
And we hear an extraordinary story about a woman in the US who had an undiagnosed preeclampsia during her pregnancy and suffered a stroke. She then had an emergency C-section but lost all her memory and didn't remember giving birth or even being married. We speak to her and her husband about the couple's struggles to rebuild their life, and how for years she would wake up every day not knowing who she, her husband and her child were.
And we'll speak to people in the Indian capital, Delhi where pollution has once again reached alarming levels. Authorities have declared public health emergency and have started distributing five million pollution masks to school students.
(Photo: Protest in support of the young woman raped by seven men in Manresa (Barcelona) in July 2019. Credit: Getty Images: Jesus Merida/SOPA Images/LightRocket via Getty Images)