Main content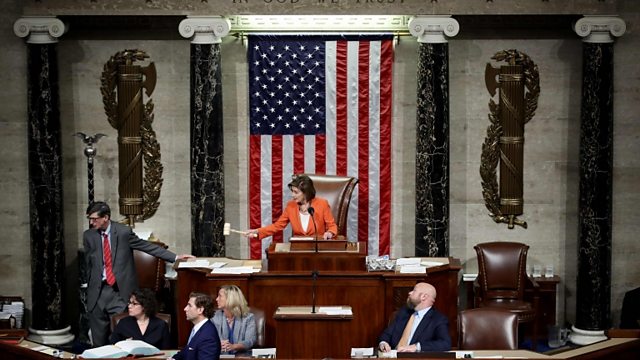 Trump impeachment: US congress votes to proceed with inquiry
The impeachment inquiry against President Trump will now move into a more public phase.
The US House of Representatives has passed a resolution to formally proceed with the impeachment inquiry against President Donald Trump. The vote was the first formal test of support for impeachment in the Democratic-controlled house. We bring you the latest.
Also, protests continue in Lebanon two days after the Prime Minister resigned. People are on the streets in cities across the country to demand an end to corruption and a change in government. We bring you the voices of people who have been protesting.
And we bring you the story of a student in Peru, who has becoming the first person ever to write their university doctorate thesis in the Quechua language. Quechua is the language of the Incas.
(Photo: Speaker of the US House Nancy Pelosi during the vote by the US House of Representatives on a resolution formalising the impeachment inquiry centred on US President Donald Trump October 31, 2019 in Washington DC. Credit: Win McNamee/AFP)