Main content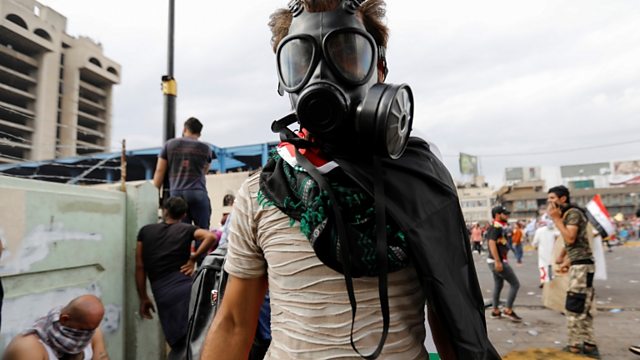 Why are people in Iraq protesting?
We hear from people who are protesting today across Iraq.
Protests are happening nationwide in cities across Iraq. Demonstrators are marching on government buildings to demand more jobs, better public services and an end to corruption. Similar protests earlier this month were put down by security forces, leaving nearly 150 people dead. We speak to people on the streets across the country, to hear first-hand from the protests.
Also, huge crowds in Australia have been climbing Uluru - formerly known to visitors as Ayers Rock - on the final day before the climb is banned. Uluru is sacred to indigenous Australians, who have long asked tourists not to climb. We speak to an indigenous woman about the significance of Uluru.
And we speak to a 16-year-old cross country runner who was disqualified from a race because she was wearing a hijab. Noor Alexandria Abukaram from Ohio in the United States tells us her story.
(Photo: A demonstrator wears a mask to protect himself from tear gas during a protest over corruption, lack of jobs, and poor services, in Baghdad, Iraq October 25, 2019. Credit: REUTERS/Thaier Al-Sudani)