Main content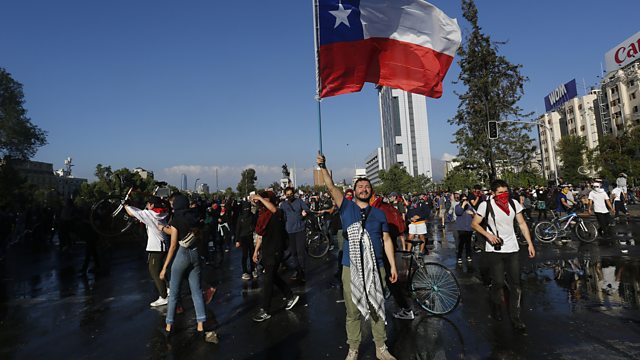 Chile protests: Five dead after looters set fire to factory
The military and police used tear gas against protesters and a curfew was imposed
In Chile, five people have died after looters set fire to a garment factory near the capital, Santiago. It brings the total killed in the protests to at least seven. The protests started over an increase in metro fares, which has now been suspended. But they've widened to be about living costs and inequality.
We'll also talk about demonstrations in Lebanon, where hundreds of thousands have taken to the streets to protest against corruption and austerity measures. The coalition government has approved economic reforms in an attempt to stop them.
Also, our senior political analyst Peter Barnes gives us the latest on Brexit - Britain's departure from the European Union. Last week the UK and EU agreed a deal, but when Prime Minister Boris Johnson tried to bring it back for a vote, MPs voted to delay their approval instead. Mr Johnson was forced to send a letter to the EU asking for an extension to the Brexit date, but didn't sign it.
And we speak to a woman in the US who has been reunited with her child who she thought had died 27 years ago.
(Photo: Protest against President Sebastian Piñera in Santiago, Chile. Credit: Marcelo Hernandez/Getty Images)