Main content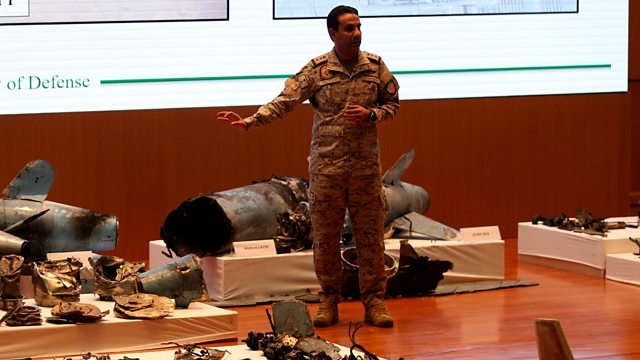 Saudis say oil attacks 'unquestionably sponsored by Iran'
Saudi-Arabia says it has evidence that Iran was behind the attack.
Saudi Arabia says Saturday's attack on its oil facilities was "unquestionably" sponsored by Iran. The Houthi movement in Yemen, an ally of Iran, has claimed responsibility for the attacks. BBC Monitoring reporters talk about today's developments.
And the BBC's Global Health correspondent Tulip Mazumdar tells us about the research looking for solutions to prevent snakebites. It's estimated that one person dies from a snakebite every 5 minutes, and many more a left with life-long disabilities.
The BBC's Middle East Editor Jeremy Bowen is in Israel reporting on the elections. Results indicate that the two main parties are deadlocked. Jeremy has been answering listeners' questions about what the vote means for the country.
(Photo: Saudi defence ministry spokesman Colonel Turki Al-Malik displays remains of the missiles which Saudi government says were used to attack an Aramco oil facility. Credit: Hamad l Mohammed/ Reuters)