Main content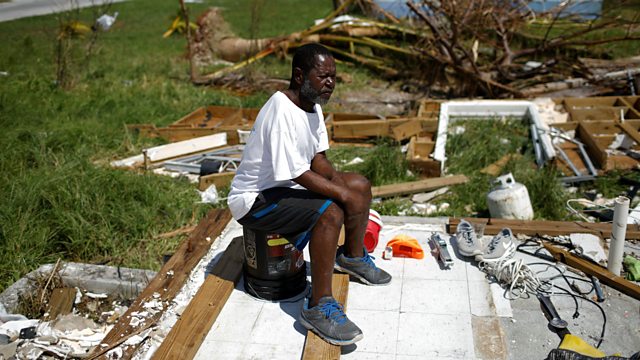 Bahamas: Aftermath of Hurricane Dorian
The latest on the aftermath of Hurricane Dorian.
Estimated 2,500 people could still be missing in the Bahamas after Hurricane Dorian nearly two weeks ago. Blaire Toedte works for BBC Monitoring in Miami and has been following the news coming out of the country.
We go to South Africa where #RIPMissOxygen is being used by people mourning the death of a young inspirational woman who shared her life and battle with pulmonary hypertension on social media. We speak to people with similar experiences of living with lung disease.
We also speak to our correspondent Mark Lowen in Turkey, who's about to leave his post for Italy. Over the past five years, Mark has covered many key events under President Erdogan's rule, and we ask him about the stories and moments that he will remember most.
(Photo Carl Mills takes a break as he works to rebuild his house after Hurricane Dorian hit the Abaco Islands in Spring City. Credit: Marco Bello/Reuters)