Main content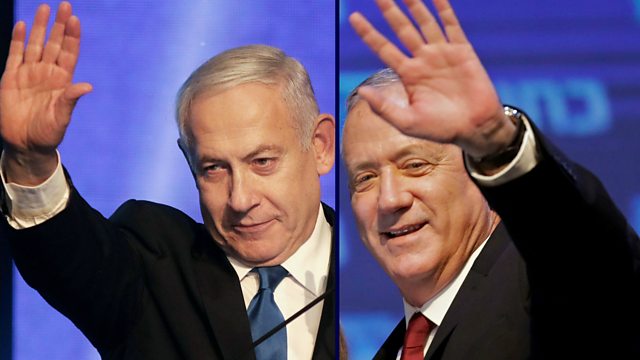 Israel election: Netanyahu and rival headed for deadlock
Preliminary results suggest no clear route to government for Netanyahu or Gantz.
Preliminary results from Israel's second general election in five months indicate that the two main parties are deadlocked. With ninety percent of the vote counted, it appears that neither the Likud party of the prime minister, Benjamin Netanyahu, nor the rival Blue and White alliance has a clear path to forming a coalition government.
Also in the programme: Saudi Arabia's amabassador to the UK warns against a hasty response to the attack on his country's oil industry; and the vice-president of Venezuela's National Assembly, Edgar Zambrano, has been released from a military base after being detained there for four months.
Picture: This combination picture created on September 18, 2019 shows, Benny Gantz (R), and Israeli Prime Minister Benjamin Netanyahu (L). Credit: Getty Images.