Main content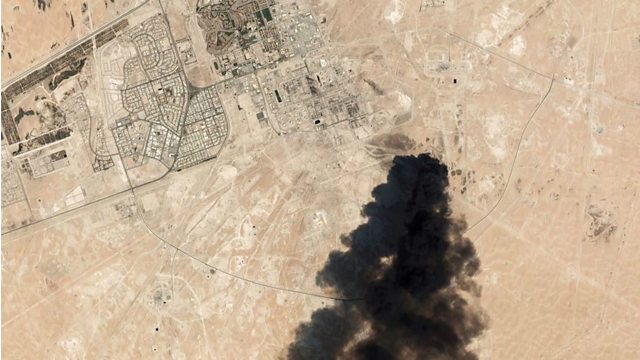 Saudi oil attacks: US says intelligence shows Iran involved
Iran denies involvement in attacks which were claimed by Houthi rebels in Yemen.
The United States has issued satellite images and cited intelligence to back its claim that Iran was behind attacks on major Saudi oil facilities. (Iran denies involvement in Saturday's air attacks, which were claimed by Iran-aligned Houthi rebels in Yemen). Global oil supplies have been cut by 5% and prices have soared.
Also in the programme: The British Prime Minister Boris Johnson has been meeting the EU Commissioner Jean-Claude Junker to discuss Brexit; and financial regulators are questioning Facebook officials in Switzerland about the company's plans to launch its own cryptocurrency, the Libra, next year.
Picture: A satellite image shows an apparent drone strike on an Aramco oil facility in Harad, Saudi Arabia September 14, 2019. Credit: Planet Labs Inc.