Main content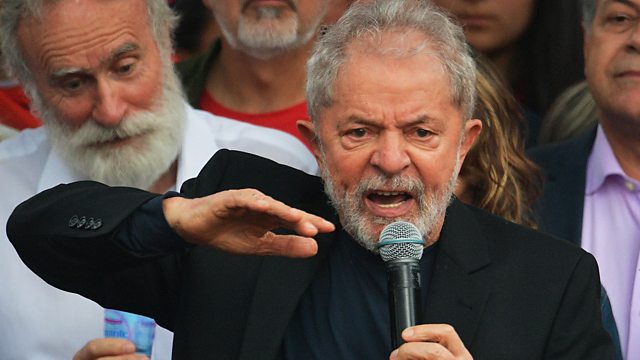 Brazil's former President, Lula, released from jail
Global business news, with live guests and contributions from Asia and the USA.
A judge has ordered the release of Luiz Inácio Lula da Silva, after the Supreme Court ruled that convicted criminals should go to prison only if they have exhausted their appeal options. We hear from John Watts, spokesman for Lula's legal defence team.
It's been a long summer of street protests in Latin America, from Ecuador to Chile and more recently in Bolivia. Is there any common denominator linking these demonstrations? The BBC's Katy Watson reports from the Chilean capital, Santiago.
The economic fortunes of Spain are in the balance. On Sunday, Spaniards head to the polls for the second time in seven months. We hear from Clara Jimenez who heads Maldita, a not-for-profit news organization focused on fact-checking.
The Port of Los Angeles is suffering as the US/China trade war wreaks havoc on the container trade. Lori Ann LaRocco from CNBC Business News brings us the details.
A corridor that will allow Sikhs to cross from India into Pakistan to visit one of the religion's holiest sites is set to open Saturday, with thousands expected to make the pilgrimage. We hear more from Gubinder Singh, president of the Dilbir Foundation.
An unlikely festival of economics and comedy is now in its tenth year. Kilkenomics is underway in the Irish town of Kilkenny; Rory Cellan-Jones visited for the BBC.
Plus, we're joined throughout the programme by Clare Negus, acting Western Australia regional editor for the ABC; she's in Perth. And interviewer, author, media adviser Diane Brady is in New York.
Photo: Former Brazilian President Luiz Inacio Lula da Silva
Credit: Carl de Souza/AFP/Getty Images