Main content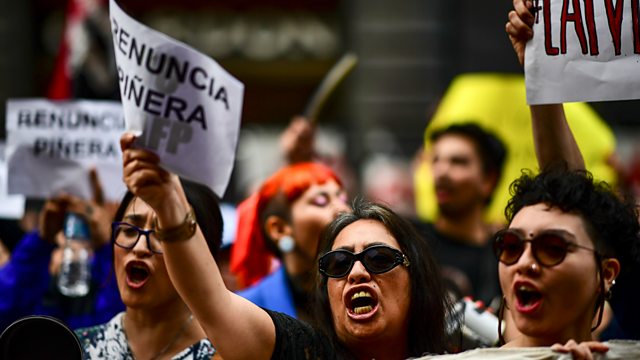 Curfew in Chile amid violent riots
Protests continue in Chile despite the government ordering another overnight curfew
Protests continue in Chile despite the government ordering another overnight curfew following riots and looting. We analyse how a protest that started over an increase in fares for the metro has turned into anger against the country's president and the military. A state of emergency has been declared in many parts of the country. Jane Chambers, a journalist in Santiago, explains the background to the unrest and we get a sense of how businesses are coping with the disruption, from David Lloyd, chief executive of The Intern Group, a global company based in the Chilean capital.
The oil giant ExxonMobil is due in court in New York facing accusations that it misled investors about the impact of climate change on its business. The case could have a wide reaching impact on the energy sector, as we hear from Nicholas Kusnetz at the website Inside Climate News.
Banks in Cuba are being allowed to accept foreign currency deposits from consumers, a move that will help the government manage the economy because its cash reserves will increase. Dr Stephen Wilkinson, from the University of Buckingham, an expert in developments linked to the Cuban economy explains how the government in Havana will get access to currencies like the euro, which will help deal with the United States restricting access to the dollar.
Throughout the programme we will get analysis and comment from our guests Professor Peter Morici from the University of Maryland, in Washington and Sushma Ramachandran, a columnist at The Tribune, who joins us from Delhi.
(Picture: Protests in Chile. Copyright Getty Images.)