Main content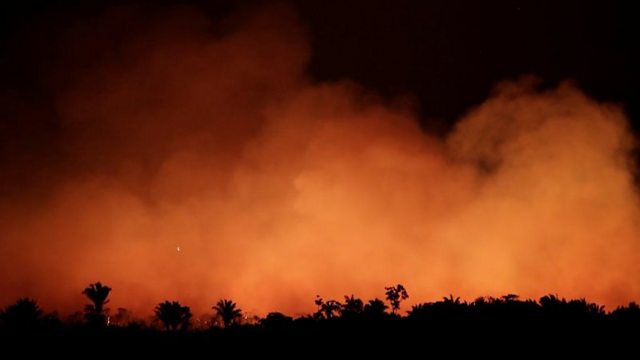 Amazon rainforest is burning
Record number of fires are caused by deforestation.
The burning of the Amazon rain-forest has dramatically worsened in the last couple of years. In Brazil, environmental activists are quite clear - it's down to President Jair Bolsonaro's expressed determination to put apparent development before the environment. French President Macron has called for this to be discussed at the upcoming G7 conference.
On the other side of the world, in Punjab, India, The Indian Army has been deployed to air-drop food into flood-affected areas. Villages have been inundated and crops damaged.
We also look into the economic situation in Zimbabwe and go to Turkey where the tide is turning against Syrian refugees.
Presenter Fergus Nicoll is joined by Sushma Ramachandran in Delhi and Paddy Hirsch in LA.
PHOTO: Amazon fire/Reuters