Main content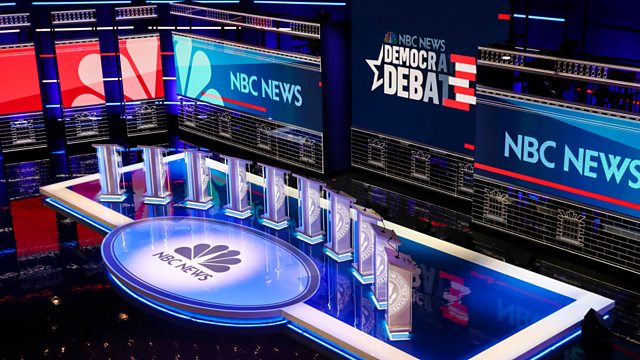 Democratic candidates in first debates of 2020 election
The stage is set for the first Democratic presidential primary debate for the 2020 election
Twenty five candidates have formally declared that they're running to be the Democratic Party's presidential nominee for the 2020 election. We speak to Gabe Horwitz of think tank, the Third Way.
The huge Chinese infrastructure project known as Belt and Road reaches out across many continents and there's increasing awareness of its hidden costs as our Senior Africa Correspondent, Anne Soy explains.
Shares in the US chipmaker Micron jumped more than 13% on Wednesday when it emerged it has resumed some shipments to Huawei despite a ban on selling products to the Chinese firm. We hear more from Susan Schmidt at Aviva Investors.
Thursday is the closing day of the latest international conference on climate change. It's been happening in Bonn, the former West German capital but it's far from being the only place where activists are gathering, as we hear from the BBC's Tamasin Ford.
Cognac - brandy specifically from the Cognac region of France - is more popular with American hip hop and rap fans than practically anyone else on the planet; the BBC's Elizabeth Hotson reports
And with us throughout the programme are James Mayger, the China Economy Editor at Bloomberg; he's with us from Beijing. And in London, we're joined by Dr Stephanie Hare, researcher and consultant.
Photo description: The stage is set for the first Democratic presidential primary debate for the 2020 election
Photo credit: Drew Angerer/Getty Images