Main content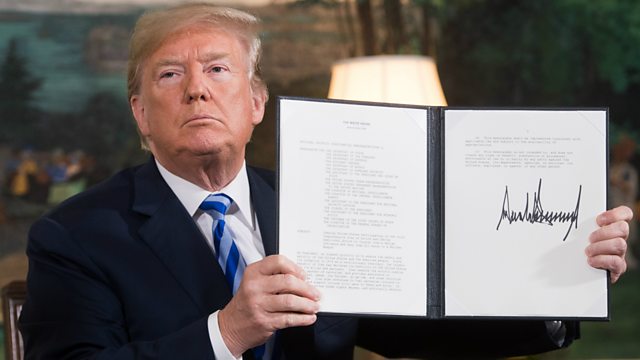 Trump: 'Sanctions are coming' on Iran.
United States announces that sanctions on Iran will be reinstated on Monday.
The US announces that all sanctions on Iran lifted under the nuclear deal WILL be reinstated on Monday. A journalist in Tehran says if the US thinks this will mean regime change, it won't.
Also on the programme, an Islamic cleric known as the Father of the Taliban has been stabbed to death in Pakistan ; And the EU is testing a smart lie detection system to help spot illegal immigrants, but will it work?
(Photo: US President Donald Trump signs a document reinstating sanctions against Iran after announcing the US withdrawal from the Iran Nuclear deal. Credit: SAUL LOEB/AFP/Getty Images)
Last on

BBC World Service
Americas and the Caribbean, UK DAB/Freeview, Europe and the Middle East, Online & News Internet only
Broadcast
BBC World Service

Americas and the Caribbean, UK DAB/Freeview, Europe and the Middle East, Online & News Internet only