Main content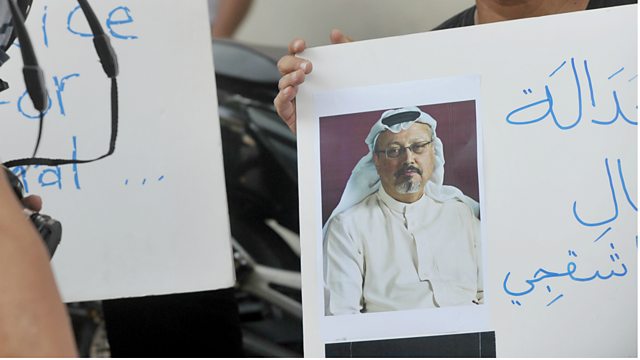 Saudi Foreign Minister: Khashoggi Killing Was 'Tremendous Mistake'
Saudi Arabia's Foreign Minister says killing of Jamal Khashoggi was 'tremendous mistake'.
Saudi Arabia Foreign Minister Adel al-Jubeir told Fox News that the killing of journalist Jamal Khashoggi was a 'tremendous mistake' and part of a rogue operation. Meanwhile, Britain, France and Germany are still demanding further clarification about the exact circumstances of Mr Khashoggi's death. Newshour speaks to an ally of Angela Merkel.
Also in the programme: the Trump administration intends to pull out of a key nuclear weapons treaty with Russia, Newshour speaks to a key US negotiator of the original deal.
Indonesian journalists hold banner asking for a complete investigation into the disappearance of Saudi Arabian journalist Jamal Khashoggi. Credit: Dasril Roszandi/NurPhoto via Getty Images.