Main content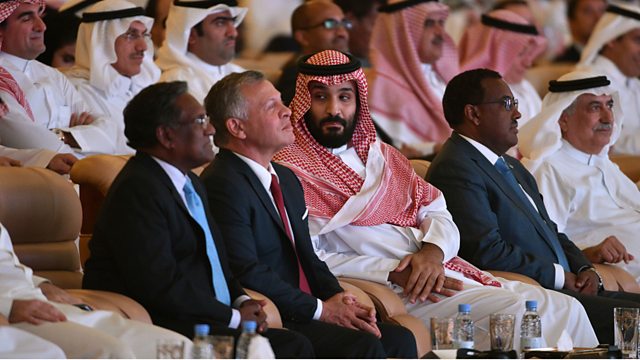 Saudis Defend Leaders as Conference Proceeds
President Trump has raised the prospect of sanctions against Saudi Arabia over the killing of critical journalist Jamal Khashoggi
US President Donald Trump has raised the prospect of sanctions against Saudi Arabia over the killing of critical journalist Jamal Khashoggi
In some of his strongest comments to date, President Trump branded the response to the murder "the worst cover-up ever".
But he stressed that Congress, rather than his administration, would take the lead on whether to sanction Riyadh.
Lubna Olayan, a Saudi billionaire and the deputy chairwoman of the Olayan Financing Company, said the truth is yet to emerge.
Anjli Raval, a Financial Times journalist covering the conference in Riyadh, describes the atmosphere.
Also in the programme, Nicola Borri, an economics lecturer at LUISS University in Rom, explains how the Italian government's stubbornness over its budget is playing at home, abroad and in the financial markets.
BBC presenter Vivienne Nunis is joined by Mitchell Hartman, a senior reporter for Marketplace on US public radio who's in Portland, Oregon. And the writer and columist Sushma Ramachandran who joins the programme from Delhi.
(Picture: From the left, former Maldives' president Mohammed Waheed Hassan, Jordan's King Abdullah II, and Saudi Crown Prince Mohammed bin Salman attend the Future Investment Initiative conference in the Saudi capital Riyadh on October 23, 2018. Credit: Getty Images.)