Main content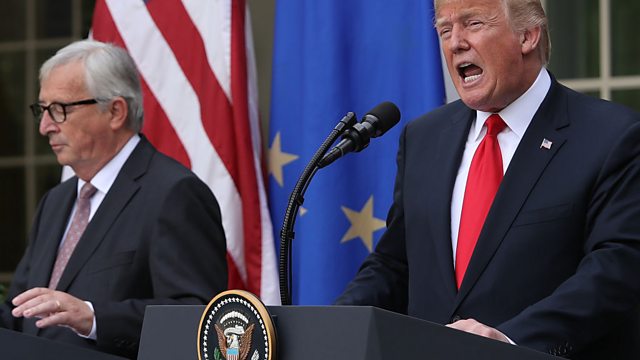 Trump and Juncker Talk Trade
The US President has met the president of the European Commission, Jean-Claude Juncker
Donald Trump has held talks with the European Commission president Jean Claude Juncker. They agreed to work towards zero tariffs on industrial goods - but not cars. We take a look at one sector that would like to see trade peace between Washington and Brussels - the bourbon industry.
Pakistan's election is undermined by technical glitches and claims of vote-counting fraud. We hear from Pakistani journalist, Khurram Hussain of Dawn newspaper.
Commercial possibilities are being opened up by new evidence that there could be life on Mars. Stephen Petranek, a technology forecaster tells us more.
And we hear from Norway - one of the few places where millennials look set to fare better than their parents did.
We're joined throughout the programme by two guests on opposite sides of the Pacific, Peter Morici, Professor of International Business at the University of Maryland who's in Washington, and Sarah Birke, Tokyo Bureau Chief at The Economist in Tokyo.
Picture description: U.S. President Donald Trump and European Commission President Jean-Claude Juncker deliver a joint statement on trade in the Rose Garden of the White House
Picture credit: Win McNamee/Getty Images.