Main content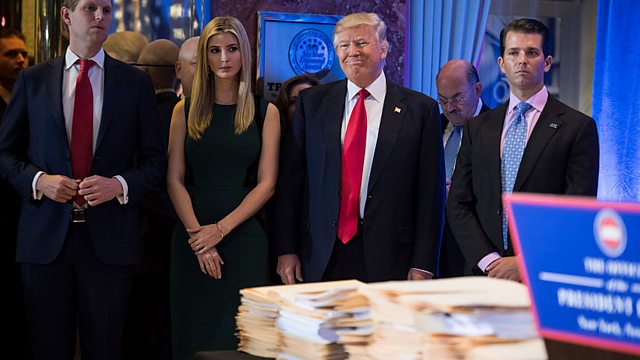 Trump Charity Sued by New York
Global business news, with live guests and contributions from Asia and the USA.
New York's attorney general is suing the Trump Foundation, as well as Donald Trump and his children, alleging "extensive and persistent" lawbreaking. Barbara Underwood said the charitable foundation had engaged in "unlawful political co-ordination" designed to influence the 2016 election. We speak to Darren Samuelsohn, senior reporter at Politico.
The north of Chile is one of the driest areas in the world. In order to survive, local communities are learning to adapt to year after year of droughts. Their solution - a fog catcher. Jane Chambers has been to find out more.
The US government is struggling to find a way of accommodating migrant children that are in custody, mainly along the southern border. The new plan is to put them in tents on the border, about 20 miles east of El Paso. Nick Miroff has been covering the story for the Washington Post.
Elon Musk's Boring Company has secured a contract worth hundreds of millions of dollars to build a high-speed underground rail link between O'Hare airport and downtown Chicago. We hear from Tim Bradshaw, a tech reporter for the Financial Times.
Russia's hosting the World Cup soccer tournament and reports suggest that Mr Putin has invested more than 14 billion dollars even though the economy has struggled with western sanctions and low oil prices. So what will the payback be? Mike Johnson has been talking to Olga Tanas of the Bloomberg news agency in Moscow.
We cast the net a little wider to draw in some of the business headlines from elsewhere in the world and cross to the BBC's Phil Mercer in Sydney.
And joining us throughout the programme are Diane Brady, Bloomberg BusinessWeek and Wall Street Journal writer turned media entrepreneur - she's with us from New York. And in Delhi, we hear from the journalist and writer Madhavan Narayanan.
Picture Description: President-elect Donald Trump, Eric Trump, left, Ivanka Trump, and Donald Trump Jr
Picture Credit: Jabin Botsford/The Washington Post via Getty Images