Main content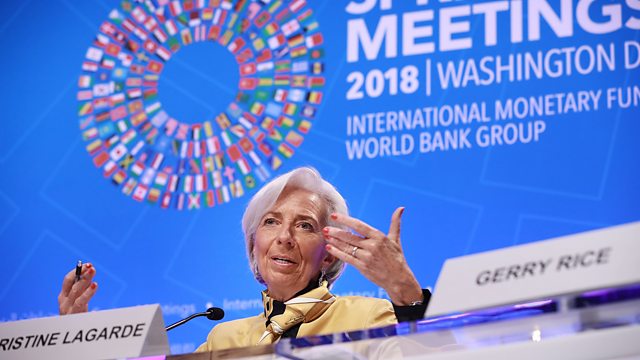 IMF Issues Warning On Global Debt
In a new report, the IMF says governments should use the current strong economic growth to strengthen their finances.
The International Monetary Fund says that high global debt is a concern. The BBC's Kim Gittleson gives us the latest from the IMF and World Bank Spring Meeting in Washington DC. A consultation is being undertaken to consider a UK ban on plastic straws and cotton buds. Rebecca Newsom, head of politics at Greenpeace UK, gives us her reaction. Plus, Yogita Limaye on efforts in India to get rid of plastic products. We hear former director of the FBI James Comey's on UK broadcast interview, in which he says no one around the president is able to "stop impulsive behaviour".
All this and more discussed with our two guests throughout the show: Professor Jasper Kim of Ewha University, founder and CEO of the Asia-Pacific Global Research Group in Seoul. And Ralph Silva of the Silva Research Network, in Toronto.
(Photo: International Monetary Fund Managing Director Christine Lagarde at the IMF Spring Meeting, 19th April 2018. Credit: Getty Images).