Main content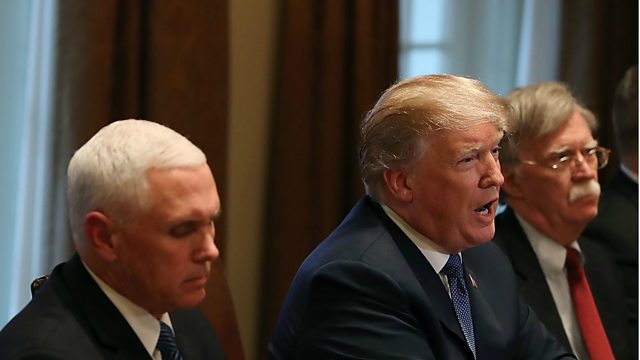 Donald Trump talks to his allies about strikes on Syria
Global business news, with live guests and contributions from Asia and the USA.
Russia has called another meeting of the United Nations Security Council for Friday, with their ambassador warning of war between his country and the United States. Meanwhile, President Trump has been talking to the UK Prime Minister Theresa May, and the French President Emanuel Macron, to coordinate any action. But the White House says nothing has been decided yet, so what is actually going to happen? Whatever it is, it's already moving the oil price, as Russ Mould from AJ Bell explains. Elina Ribakova at Deutsche Bank also weighs in on possible sanctions and the effect on the shares market.
The British Academy of Film and Television Arts awards are seen as the curtain raiser for the Oscars. And now they recognise the achievements of the video game industry as well. Is this an acknowledgement that gaming has finally "made it" in the eyes of the cultural elite? Steffan Powell from BBC radio's Newsbeat has been at the BAFTA game awards, and tells us what it was like.
Is cash on the way out? A few countries seem to think so, not only embracing the growing trend towards cashless transactions, but actively pushing people and businesses in that direction. India and Sweden are two nations that have policies in place to persuade citizens to abandon cash. But life can be hard for those unwilling or unable to embrace the changes. Professor Niklas Arvidsson, an expert on the Swedish payments system, and Monika Halan, consulting editor at the Indian financial newspaper Mint, each join us to discuss.
India has overtaken China to become the fastest growing smartphone market in the world. But despite this rapid growth, dwindling profits have led to thousands of people in the industry losing their jobs - and more layoffs are expected this year. Sameer Hashmi reports from Mumbai.
And finally, Brazil's congress currently has more than 60 members who are called Lula. The members, from the opposition Workers' Party, have named themselves after the former president Luiz Inacio Lula da Silva who has just begun a prison sentence for corruption. Leader of the party Gleisi Hoffman, who will now be known as Gleisi Lula Hoffman in congress, has said the campaign to free Lula would continue. Our South America Business Correspondent, Daniel Gallas in Sao Paulo, explains more.
All throughout the show we will be joined by political communication expert Kara Alaimo in New York City and The Motley Fool's David Kuo in Singapore.
Photo Descitpion: U.S. President Donald Trump speaks during a briefing from senior military leaders regarding Syria, on April 9, 2018 in Washington, DC. Photo Credit: Mark Wilson/Getty Images
Last on
BBC World Service
except News Internet
Broadcast
BBC World Service

except News Internet