Main content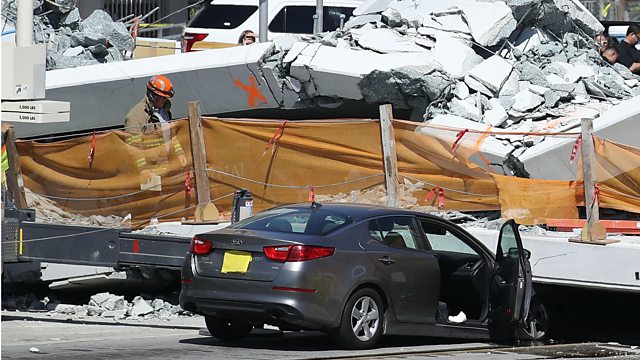 Miami bridge collapses
Bridge built on Saturday crushed cars and drivers under 950 tons of concrete and steel
The new bridge was built in six hours, using a method called Accelerated Bridge Construction. But the pedestrian walkway across a eight-lane highway at Miami's Florida International University came down in a fraction of a second on Thursday. It crushed cars and their occupants under 950 tons of concrete and steel. Rescuers are still trying to recover the dead and injured.
Shalini Vajjhala, a fellow of the Brookings Institution, tells us what could have gone wrong.
We talk to George Monbiot about a study which suggests there is there a link between rising temperatures in the Arctic and extreme weather patterns in the US and Europe.
El Salvador is one of the world's most violent countries. In the first 20 days of 2018, 220 murders were reported in a country of 6.3 million people. Gang violence is one of the biggest problems, and it seems to be out of the control of the authorities, but there is a new factor that might be helping - religion. Sarah Esther Maslin of the Economist's 1843 website tells the BBC's Roger Hearing more.
He is joined by two guests on opposite sides of the Pacific: Peter Morici, Professor of International Business at the University of Maryland, who's in Washington, and Yoko Ishikura, Professor Emeritus, Hitotsubashi University, who is in Tokyo.
(Picture: Miami-Dade Fire Rescue Department personnel and other rescue units work at the scene where a pedestrian bridge collapsed a few days after it was built over southwest 8th street allowing people to bypass the busy street to reach Florida International University. Credit: Getty Images)