Main content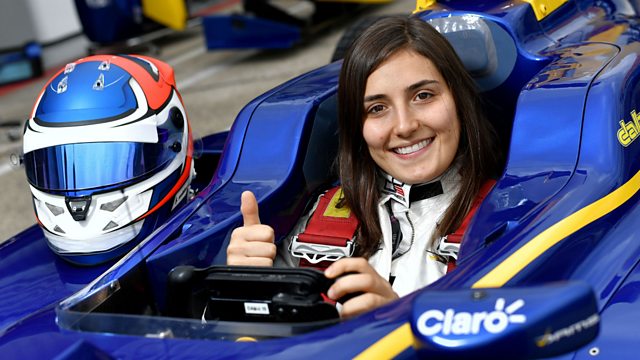 'I had to crash to earn respect from male drivers'
F1 test driver Tatiana Calderon speaks about her rise through the ranks.
Tatiana Calderon admits that her career hasn't always been easy. The Sauber test driver tells Sportshour she had to crash in order to the gain the respect from the male drivers. Calderon also talks about the controversial comments made by Carmen Jorda, the former development driver for Lotus and Renault. Jorda said women were more suited to competing in the new Formula E series, using electric vehicles than the high octane world of Formula One. The E-Car she believes presented less of a physical challenge.
Last month a school in London tried to ban the wearing of the Hijab for pupils under eight. Staff at Stephen's Primary School said it was to help younger girls move freely during Physical Education lessons.
The idea was shelfed a week later, but what are the risks of having these conversations? And how important is it for young Muslim women to be able to wear them during sport?
We also speak to role model Ibtihaj Muhammad and get her thoughts…
Professional chef Dean Harper is on call to fuel some of Manchester's Premier League footballers. He offers daily meal prep and date night specials.
Whilst travelling to Delhi for a national hockey camp in 2006, one of India's hockey heros was accidentally shot by a member of the countries Railway Protection Force. It left Sandeep Singh with a punctured pancreas, a fractured rib, a chipped spine and kidney damage. After being told he wouldn't walk again, he not only went on to captain the Indian team, but he helped them win silver at the 2010 Commonwealth Games and he represented his country at the London Olympics in 2012. Now his life story is being told in a new film.
Now we do it up to 20 times a minute, around 30,000 a day... so you would assume that we would be experts at it by now... but think again - according to Dr Belisa Vranich, breathing is something we could all improve on. The correct breathing by an athlete can give the 0.1% increase in performance; the possible difference between gold and silver.
A Barbie doll in the likeness of British Olympic boxing champion Nicola Adams was unveiled this week for International Women's Day. Nicola, who won gold in Rio and London, is the first British athlete to join the range designed to honour inspiring women. So how is life in plastic for Nicola? - Fantastic of course!
Last on
BBC World Service
except News Internet
Broadcast
BBC World Service

except News Internet