Main content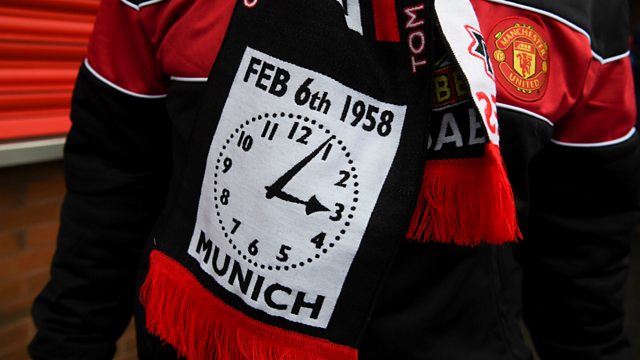 Munich Air Disaster Tribute
Kenya's iconic footballer on how he became a Manchester United fan since the tragedy.
This week, Manchester United and the world of football marked the sixtieth anniversary of the Munich Air disaster. The greatest footballer in Kenya's history – Joe Kadenge became a Manchester United fan after the tragedy and for the first time in his life, he got to watch United play at Old Trafford against Huddersfield. During his visit to Manchester, he attended the Munich memorial service on Tuesday and also popped into the BBC Sport studio where we spoke to him about fulfilling a lifetime ambition of visiting the Theatre of Dreams.
Christina Snead has dedicated her whole life to making a difference in sport. Most weekends, you'll find her officiating high-school American football games in her native North Carolina; the first woman to do so.
But in 2003 Christina was pregnant with her first child and was enjoying what appeared to be a healthy pregnancy until complications arose while she went into labour. Her son Brandon was in distress and his brain was injured during birth. Even though he survived, he has never recovered enough to live at home, requiring a feeding tube, ventilator and around-the-clock care. Despite Brandon's health battle, Christina tells us her next aim is make it to the NFL!
Mayor Changai is a refugee from South Sudan but is now living in Sydney and is the coach of the Savanah Pride Basketball Club. The programme has stopped loitering and fighting on the streets of Blacktown. Some of his players have earned scholarships to play US college Basketball. The BBC's Phil Mercer went along to a training session.
Taking up running can seem like a scary prospect, especially if you feel out of shape or unfit. NHS Couch to 5K will help you gradually work up towards running 5K in just 9 weeks. On New Year's Day, we heard presenter Shari Vahl take on the challenge so how is she going at the ½ way stage? The motivational voice on the podcast, Laura, interviews Shari on progress and tips on how to keep motivated.
Roald Bradstock is a former athlete, he has twice represented Great Britain at the 1984 and 1988 Olympic Games but 30 years on, he will be going back to South Korea, this time as an artist. He tells Shari that his lifetime goal was to become an Olympic athlete but his other lifetime dream was to become an Olympic artist. He is part of the IOC's historic and first ever Olympic Art Project.
With all eyes on the Winter Olympics in Pyeongchang, South Korea, we look back at one of the iconic moments of the Games which happened on 22nd February, 1980 when the United States stunned the defending champions Soviet Union 4-3 in the men's Ice Hockey competition. Since then, it's been known as the "Miracle On Ice" - Neal Broten was a member of the gold medal winning US team and talks us through that memorable day.
Picture - Munich Air Disaster tribute t-shirt (Credit - Getty Images)