Main content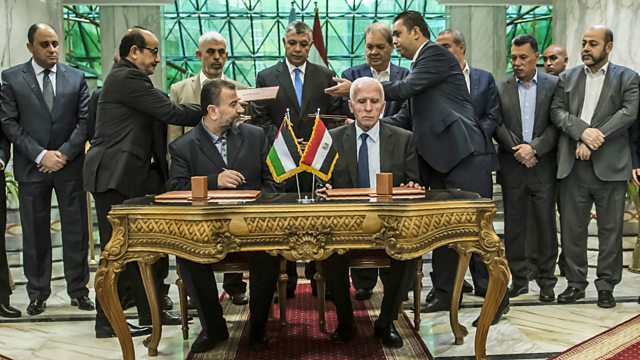 Reconciliation Between Palestinian Rivals
Rival Palestinian factions, Hamas and Fatah, sign a reconciliation agreement in Cairo.
The words "major breakthrough" and "Palestinians" don't often appear in the same sentence, these days. But a "major breakthrough" is exactly how the two main Palestinian factions, Fatah and Hamas, described their reconciliation deal, hammered out today in Cairo. We speak to a former Palestinian Minister.
Also on the programme... The US has announced it's pulling out of the UN's cultural organisation Unesco, because of what it calls "continuing anti-Israel bias" at the agency. We speak to former US Ambassador, Crystal Nix Hines. And we are in Russia for the centenary of the revolution.
(Photo: Hamas's new deputy leader Salah al-Aruri (seated L) and Fatah's Azzam al-Ahmad (seated R) sign a reconciliation deal in Cairo on
October 12, 2017; Credit: KHALED DESOUKI/AFP/Getty Images)