Main content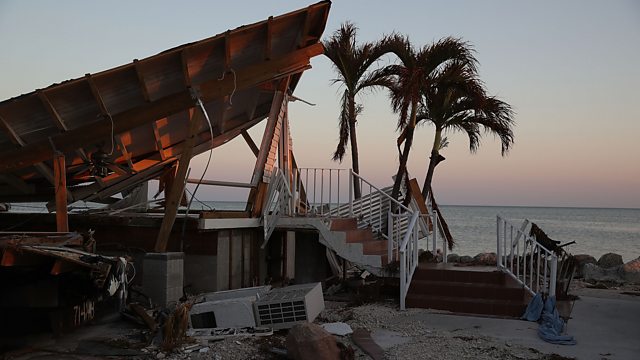 Hurricanes Take Their Toll on US Jobs Market
The Labor Department blame storms Harvey and Irma, which struck Texas and Florida recently, for the slide.
US employment fell in September for the first time since 2010 as hurricanes Harvey and Irma took their toll on the jobs market. We hear from Trump supporter Irma Aguirre, a restaurant owner from Las Vegas who leads a Mexican/Latino community group who was on her way to a meeting with the President.
China's consumer debt levels are approaching dangerous levels. That's the view of the IMF ahead of this month's National People's Congress in Beijing - the all-important five-yearly get-together of the ruling Communist Party. So what does all this cheap credit look like at street-level in China, and what lengths are lenders going to, to secure their loans? The BBC's Ed Butler has been in Shanghai to find out.
The One Young World summit has begun in Bogota ,Colombia, this week. It's a gathering of young leaders and opinion formers, guided by the likes of former UN secretary general Kofi Annan, the singer Cher, and the singer and campaigner Bob Geldof. We hear from one delegate, Rumaitha Al Busaidi, the first female football analyst in the Arab World, and the first Omani woman on the South Pole.
All this and more discussed with our guest throughout the show, Robert Milliken, Australia Correspondent for the Economist, in Sydney.
(Photo: Hurricane damage in Marathon, Florida on September 18, 2017. Credit: Getty Images.)