Main content
Harrison Burns
Police Constable Burns was quick to the scene when Jill Archer was burgled
| Fact title | Fact data |
| --- | --- |
| Played by: | James Cartwright |
| Status: | |
| Occupation: | Police officer |
| Lives at: | Woodbine Cottage |
Although he's based in Borchester, he's on the Local Neighbourhood Team for Ambridge.
Make sure you lock your windows at night

PC Harrison Burns
When word got around that he was giving a talk to the Ambridge WI, attendance swelled.
He became very attracted to Fallon Rogers - and she liked him. Their faltering relationship was kyboshed when he did his duty and arrested Fallon's father Wayne Tucson for selling cannabis. But love will out...
James on BBC Radio 6 Music's Roundtable (2014)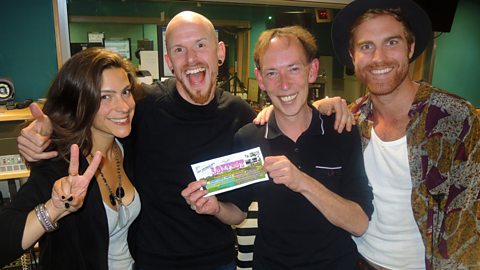 James Cartwright (aka Harrison Burns) flirts with the host...
James Cartwright
James was Born in Lancashire. He currently splits his time between London and his home town of Chorley.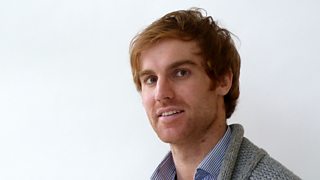 James's interest in acting began at an early age. He was involved in school productions of plays and realised that it might be quite a nice way to make a living. After finishing school at 16, James went off to pursue his dream of becoming an actor.
Within the first few months of leaving school he had been cast in a Danny Boyle film, a Michael Winterbottom film and a TV hospital drama.
James has worked regularly ever since in Film, Television and stage.
Theatre includes History Boys, The Rise and Fall of Little Voice, Passing By, and a tour of the Far East with British National Theatre Company.
Television credits include Johnny Shakespeare, for which James won Best Actor at the Royal Television Society Awards. Others include Clocking Off, Holby, Minder, Instinct and Casualty.
Film credits include Vinyl, 24 Hour Party People (as a young Morrissey), Clubbed and Vaccuming (with Danny Boyle).
James joined The Archers in December 2013 and was absolutely delighted after being a fan of the show for many years.
He is a talented musician and singer, playing guitar, keyboards – and ukulele!
Meeting the rest of the cast and getting to know them as people and not just their characters. Everyone is so lovely!
Other career highlights
Everyone is so lovely!

James Cartwright
Winning Best Actor at The Royal Television Society Awards.
James on Harrison
He is a noble and caring local police officer who is duty bound to do the right thing. He is looking to settle down and fall in love but doesn't know if the right girl will come along.
Favourite
Actor - Peter O'Toole. I still remember watching Lawrence of Arabia the first time and just being absolutely blown away by the magnificence of the man.
Book - My Left Foot. The first book that made me actually cry. Its an incredible tale of success against the odds.
Film - Saturday Night Sunday Morning. A fantastic British classic
I'd still like to...
...have a family and settle down. One day.