Main content
Lukwesa Burak
Hi, I'm Lukwesa Burak and I'm the new face of BBC Inside Out East Midlands
| Fact title | Fact data |
| --- | --- |
| Born: | Zambia |
| Lives: | Leicestershire |
Lukwesa Burak
Lukwesa Burak is the presenter of BBC Inside Out in the East Midlands.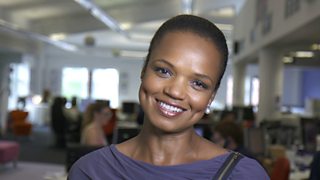 Inside Out gets to the heart of what I love, questioning, discovering and learning more about what this fabulous region has to offer.

Lukwesa Burak
In August 2016, Lukwesa joined the BBC Inside Out TV team as the programme's main presenter, and she is looking forward to the challenge of working in current affairs:
"It's fantastic to be back working in the East Midlands.
"While I've always lived in the region, my work has taken me further afield but I'm excited to be home.
"Inside Out gets to the heart of what I love, questioning, discovering and learning more about what this fabulous region has to offer.
"The human story is a powerful one and comes in so many forms and travelling around the East Midlands with the Inside Out team is something I hope audiences will appreciate as much as I do."
Early career
Lukwesa spent her formative years living in Zambia in southern Africa, before moving to the UK when she was eight-years-old.
She went on to study for a degree in Geography and French at the University of Sussex, followed by a Masters degree back home at the University of Leicester.
She says that her interest in geography and weather was fuelled by having lived in Africa: "Your relationship with the natural landscape and its characteristics is a way of life, hence my interest in all matters connected with geography".
Her early broadcasting career began in London at BBC Television Centre in White City where she worked as a Broadcast Assistant in the Weather Centre. It was here that she learned about television journalism, as well as making endless cups of tea and coffee for some of the legends of TV and radio weather broadcasting!
Lukwesa says that she learned a lot from working alongside legendary weather presenters like Michael Fish and Bill Giles.
Move to television
Her big television presenting break came when she moved to Nottingham as a weather presenter on BBC TV's East Midlands Today where she worked for nearly five years. She also dipped into presenting lunch and evening news bulletins which fuelled her appetite to move into news reporting.
This led Lukwesa to pursue her news career in London, spending a decade as World News anchor with BSkyB's Sky News as well as working for Al Jazeera English in Doha.
She says that the time she spent working abroad at different points of her career has helped to broaden her life experiences: "Time spent in South Africa with eNCA and the Middle East with Aljazeera English at their Doha HQ were experiences that enriched my appreciation and understanding of others take on the news that affects us all.
"With such a diverse background such as mine, an appreciation of cultures has been a part of my upbringing. I think I can safely say my family hails from most parts of the world. I'm always asked about my 'mix'; Zimbabwean-Portuguese and Zambian-Greek."
Heart of the story
Recently, Lukwesa's love of the East Midlands called her back home, and she returned as presenter of BBC Radio Leicester's lunchtime show.
But she's never lost her passion for television, so it was only a matter of time before Lukwesa moved back into TV. She's looking forward to her new challenge as presenter of BBC Inside Out where she'll be getting stuck into current affairs reporting across the East Midlands.
During the autumn series, Lukwesa and the TV team will follow up the 2016 investigation of warehouse working conditions at Sports Direct to find out what's changed at the headquarters in Shirebrook.
They also uncover how many cyclists have been injured on tram tracks in Nottingham, Sheffield and Edinburgh – and there's a special film following vigilantes who are tracking down fly-tippers.
Lukwesa is excited to be working on a current affairs programme that gets right to the heart of what matters to television viewers in the region she loves.
Join her for Inside Out on BBC One East Midlands on Mondays at 19:30 and nationwide on the iPlayer for 28 days thereafter