Main content
Switzerland: Olga Kindler
BBC Cardiff Singer of the World Song Prize finalist
Olga Kindler was born in Odessa in the Ukraine and studied violin, cookery and English before specialising in singing in 2000 with Antonina Kulieva at the Odessa State Music Academy.
In 2002 she immigrated to Switzerland and studied with Jane Thorner-Mengedoht at ZHdK and Operastudio Biel. Currently she is studying at the Chapelle Musicale Reine-Élisabeth in Belgium.
She has taken part in several master classes, including with Izabella Klosinska and Adam Kruszewski; Montserrat Caballé; Hartmut Höll and Daniel Fueter; and José van Dam. She has won several awards, including the Margrit Meister scholarship (2008), the Chapelle Musicale Reine-Élisabeth scholarship (2010) the Migros-Kulturprozent scholarship (2010).
Roles performed at ZHdK include Miss Jessel Turn of the Screw, Lazuli L'Étoile and La libellule L'enfant et les sortileges. Recently, Olga has performed Anna Nabucco with Julian Reynolds at La Monnaie, Brussels and Judith Bluebeard's Castle with Stefan Asbury, at Tonhalle, Zürich.
Concert performances include Gurrelieder with Stefan Asbury and Ensemble Arc-en-Ciel, ZHdK. In 2009 she issued a CD of songs by Paul Kammerer with pianist Judit Polgar.
Future plans include Beethoven's Ninth Symphony with the Brussels Philharmonic conducted by Michel Tabachnik, Terrence McNally's Master Class and a Christmas performance of Mendelssohn's Infelice for the Belgian Royal Family. In her spare time, Olga enjoys ballroom and Latin dancing, composing pop songs and singing pop and jazz.
BBC Cardiff Singer of the World Song Prize Final repertoire
Muzyka (Op 34 No 8) - Rakhmaninov
Stehe still! (Wesendonck Lieder) - Wagner
C (Deux poèmes de Louis Aragon No 1) - Poulenc
Fleur jetée - Fauré
Im Abendrot (Vier letzte Lieder No 4) - R Strauss
BBC Cardiff Singer of the World 2011: concert two repertoire
Dich, teure Halle (Tannhäuser) - Wagner
Il est doux, il est bon (Hérodiade) - Massenet
Ritorna vincitor! (Aida) - Verdi
BBC Cardiff Singer of the World Song Prize 2011: recital two repertoire
La Maja Dolorosa I - Granados
Siren' (Op 21 No 5) - Rakhmaninov
Song of the Wood Dove (Gurre-Lieder) - Schoenberg
Clips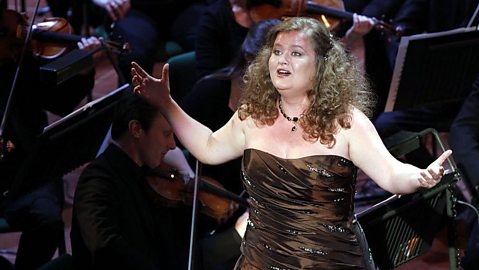 Olga Kindler from Switzerland sings Dich, teure Halle from Wagner's Tannhäuser.