Main content
John Constable (1776-1837)
Constable was one of the major English landscape painters of the 19th century.
John Constable was born on 11 June 1776 in Suffolk, the son of a corn and coal merchant. He was educated at Dedham Grammar School and then worked for his father's business. In 1799 he became a student at the Royal Academy Schools and exhibited at the Royal Academy for the first time in 1802.
Painting is but another word for feeling

John Constable
Constable began to see his future wife, Maria Bicknell, regularly from 1809 and despite opposition from her family, they married in 1816 and had seven children. Maria suffered from tuberculosis, so the family lived in Hampstead in north London, which was thought to be healthier than central London. In the early 1820s they began frequent visits to Brighton, also for Maria's health. He was devastated by Maria's death in 1828.
Constable believed that his paintings should come as directly as possible from nature. He made hundreds of outdoor oil sketches, capturing the changing skies and effects of light. He used these sketches as the basis for larger exhibition pieces which he scaled up in his studio. Constable was happiest painting locations he knew well, particularly in his native Suffolk. He also frequently painted in Salisbury, Brighton and Hampstead and travelled to Norfolk and the Lake District.
In 1829 he was finally elected to full membership of the Royal Academy. Although his work is extremely popular today, Constable received little other recognition in Britain during his lifetime. He did however have better success in France. In 1824, 'The Hay Wain' won a gold medal at the Salon in Paris and Constable had a profound influence on French Romantic artists.
Constable died in London on 31 March 1837.
Clips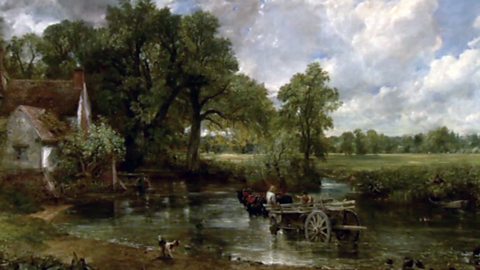 Fiona and Philip examine Constable's most famous work and find how he worked.