Main content
Owen Metsileng
Tenor from South Africa - 31 years old
I was born in Rustenburg, at the foot of the Pilanesberg Mountain, to a musical family and I started singing at an early age, both at school and in church. I started competing in the Tirisano Schools Choral Eisteddfod and was the National Champion at the SACMA Competition in 2007. I was a member of the Black Tie Ensemble from 2006 to 2008 and joined the Cape Town Opera Studio as a baritone in 2010.
At Cape Town Opera Studio, I sang Le Dancaïre (Carmen) and Barone Douphol (La traviata), also covering the role of Giorgio Germont. I also performed Marcello (La bohème) and Jake (Porgy and Bess) on Cape Town Opera's UK Tour.
I was a finalist at the Belvedere Singing Competition in 2013 and 2014. Also in 2014 I toured with Third World Bunfight in the title role of Fabrizio Cassol's version of Verdi's Macbeth in Cape Town, Brussels, Rotterdam, Vienna, Braunschweig, London, Girona, Lisbon, Tarbes, Toulouse, Strasbourg, Paris and Lyon.
In June 2017, my vocal development led to a change and now I sing as a tenor. I've been working in Belgium and on tour with Alain Platel's company Les Ballets C dela B, performing as tenor soloist in a reworking of Mozart's Requiem.
To relax, I like watching football and going out with my friends.
Owen Metsileng
Tenor, 31 oed, De Affrica
Cefais fy ngeni yn Rustenburg, wrth droed Mynydd Pilanesberg. Rydw i'n dod o deulu cerddorol a dechreuais innau ganu pan oeddwn yn ifanc iawn, yn yr ysgol ac yn yr eglwys. Dechreuais gystadlu yn Eisteddfod Gorawl Ysgolion Tirisano, a dod yn Enillydd Cenedlaethol Cystadleuaeth SACMA yn 2007. Roeddwn yn aelod o'r Black Tie Ensemble rhwng 2006 a 2008, ac ymunais â Stiwdio Opera Cape Town fel bariton yn 2010.
Yn Stiwdio Opera Cape Town, cefais gyfle i ganu Le Dancaïre (Carmen) a Barone Douphol (La traviata), gan ymddangos fel dirprwy ar gyfer rôl Giorgio Germont hefyd. Rydw i hefyd wedi perfformio Marcello (La bohème) a Jake (Porgy and Bess), a hynny ar daith Opera Cape Town o'r Deyrnas Unedig.
Cyrhaeddais rownd derfynol Cystadleuaeth Ganu Belvedere yn 2013 a 2014. Hefyd yn 2014 cefais gyfle i fynd ar daith gyda Third World Bunfight, gan berfformio'r brif rôl yn fersiwn Fabrizio Cassol o Macbeth gan Verdi yn Cape Town, Brwsel, Rotterdam, Fienna, Braunschweig, Llundain, Girona, Lisbon, Tarbes, Toulouse, Strasbourg, Paris a Lyon.
Ym mis Mehefin 2017, bu newid yn sgil fy natblygiad lleisiol, ac erbyn hyn rydw i'n canu fel tenor. Rydw i wedi bod yn gweithio yng Ngwlad Belg ac wedi bod ar daith gyda chwmni Alain Platel, Les Ballets C dela B, yn perfformio fel unawdydd tenor mewn addasiad o Requiem gan Mozart
I ymlacio, byddaf yn hoffi gwylio pêl-droed a mynd allan gyda ffrindiau.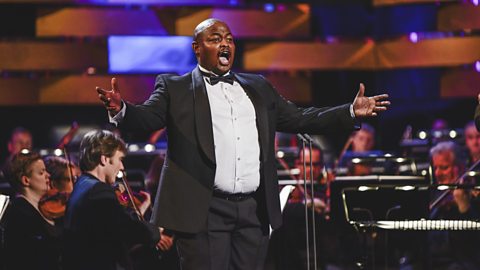 "Tombe degli avi miei … Fra poco a me ricovero" from Lucia di Lammermoor by Donizetti
Repertoire
| Main Prize | Concert | |
| --- | --- | --- |
| Gott! welch dunkel hier | Fidelio | Beethoven |
| Tombe degli avi miei … Fra poco a me ricovero | Lucia di Lammermoor | Donizetti |
| Dio! mi potevi scagliar tutti i mali | Otello | Verdi |
| Song Prize | Recital 2 | |
| --- | --- | --- |
| Preghiera | | Tosti |
| Ich grolle nicht | Dichterliebe | Schumann |
| Malìa | | Tosti |
| Musica proibita | Op 5 | Gastaldon |
| Passione | | Tagliaferri/Valente |