Main content
Frances Pirsig
Nessa's private secretary and one of her most trusted confidantes, Frances is a resolute and unwavering presence by Nessa's side, though isn't afraid to give her opinion when asked. All too aware of balancing Nessa's public persona with the work of the Stein Company, Frances is adept in making sure Nessa stays 'on message' and is soon caught up in the violent scheme to undo the Steins.
Genevieve O'Reilly
Born in Dublin and raised in Adelaide, Genevieve trained in Australia and worked with the Sydney Theatre Company, performing in A Man with Five Children and The Way of the World, before moving to the UK in 2005. Other theatre credits include The Weir, Richard II,The Doctor's Dilemma, 13 and Helena, opposite Andrew Scott's Emperor in the 2011 production of Ibsen's epic Emperor and Galilean.
Her film appearances include The Matrix Reloaded, The Matrix Revolutions, Star Wars Episode III: Revenge of the Sith, Right Here Right Now, The Young Victoria and most recently, Survivor.
Her TV work includes The Last Weekend, the political mini-series The State Within; playing Princess Diana in the 2007 television docu-drama Diana: Last Days of a Princess, and took the lead role in The Time of Your Life. She played CIA liaison officer Sarah Caulfield in the eighth series of BBC drama Spooks and also starred in the BBC comedy Episodes playing Jamie Lapidus.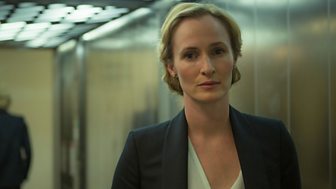 Explore The Honourable Woman