Main content
Fyfe Robertson
Journalist and roving reporter
With his trademark tweed and tufty beard, Fyfe Robertson was a journalist who cut a distinctive figure. Known as "our roving reporter", Robertson was one of the first generation to make the transition from print to TV journalism when he joined the line up of BBC's Tonight (1957-1965). The nightly magazine programme was the first of its kind and Robertson was sent out to capture the stories of everyday people.
From an early age it was Robertson's life ambition to work in journalism and his enthusiasm for the profession is evident in every report. At the age of 17, Robertson showed his determination by starting his own weekly newspaper in Lanarkshire, which he ran single-handed. This led to work at the Glasgow Herald, The Daily Express, The Picture Post and his TV debut on Tonight.
In total Robertson's career spanned an impressive 60 years, and in 1975, Robertson was given his own weekly series, Robbie, in which he roamed Britain. Broadcaster and presenter Stuart Cosgrove remembers him fondly, "Fyfe Robertson was probably one of the first and greatest Scottish broadcasters. He was somebody that made you smile and made you sit back and wonder, both at the same time."
Clips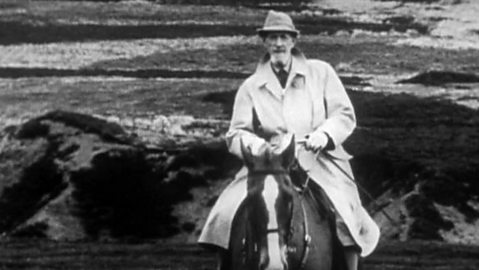 Be it on horseback or on foot, Fyfe Robertson was always first on the scene to catch the latest news.