Main content
Marc Chagall (1887-1985)
Marc Chagall was born Movsha (Moses) Shagal on 7 July 1887 in Vitebsk, Russia.
The son of a herring merchant, Chagall was the eldest of nine children in a deeply religious Jewish family. In 1907 he went to study at art school in St Petersburg and later studied under the artist Leon Bakst.
Great art picks up where nature ends.

Marc Chagall
In 1910 Chagall travelled to Paris to live and work as an artist. It was here that he became influenced by the Cubist painters and began experimenting with vibrant colours in his work. Chagall enjoyed some success at this time and in 1914 had his first one-man exhibition at the Der Sturm Gallery in Berlin.
Chagall returned to Russia in 1915 and soon after married his first wife, Bella Rosenfeld. Their daughter, Ida, was born in 1916; both appear often in his paintings.
Chagall stayed in Russia for the next few years, trapped there by the events of World War I. During this time he directed an art academy in Vitebsk and executed murals for the Jewish Theatre in Moscow. He also completed his illustrated biography 'My Life'.
In 1922 Chagall was finally given permission to leave Russia and he soon returned to Paris with his family. He did not return to his native country again until 1973.
In 1940, Chagall was forced to flee to New York to escape Nazi persecution. It was here that Bella died in 1942. Chagall was devastated by her death and stopped painting for almost a year. However, in 1944 he fell in love with Virginia Haggard McNeil who had his second child, David, when they returned to Paris in 1946.
In 1952 Chagall married his second wife, Valentina Brodsky. They settled in the southeast of France and lived a quiet life.
In addition to paintings, Chagall also made illustrations for Gogol's Dead Souls, La Fontaine's Fables and the Bible. His later works include a new ceiling painting for the Paris Opéra and a number of commissions for stained glass windows.
Chagall died in France in 1985 at the age of 97.
Clips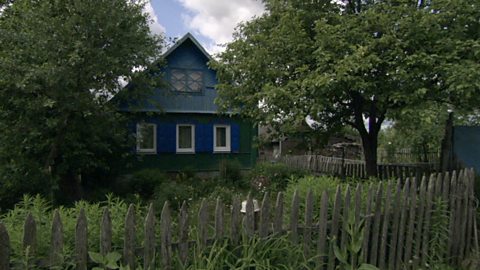 Fiona travels to Chagall's hometown in Belarus to find out more about the themes he used.