Main content
Suzanne Saunders-Blundell
Suzanne has worked at the Goodhope Hospital in Sutton Coldfield since she qualified as a midwife in 2001.
| Fact title | Fact data |
| --- | --- |
| Salary | A midwife with 9 years experience earns over £30,000 per year |
| Age | 32 |
| Training | 4-year degree course, a BA (Hons) in Midwifery |
The hospital, in the West Midlands, delivers around 4,000 babies a year and Suzanne thinks she has probably delivered between 600-700 babies since she qualified.
You have to act like a swan, calm on the outside but paddling like mad underneath

Suzanne
Like a swan
As a midwife, she says you have to act like a swan, calm on the outside but paddling like mad underneath. You can always rely on the emergency buzzer when you need it. You end up running on auto-pilot when emergencies happen, because they have set and rehearsed routines where everyone has a role.
She is a shift co-ordinator in the delivery ward and has also been a supervisor for two years. This involves helping other midwives returning to work after going through distressing situations.
Family life
Suzanne's husband Daniel is an electrician who works in London during the week so they only really see each other at weekends. She met her husband catching a bus to 6th form aged 17-years-old. They have been together 14 years and married for six years.
She went on a big trip for her honeymoon to LA, the South Pacific, Hong Kong, South Africa and jungle trekking in Borneo.
Stubborn and determined
Suzanne's very active. As well as extra shifts at work, she's recently started as personal trainer. She keeps very fit, is in a local rugby team, has done the Tough Guy obstacle course competition, and has run six half marathons. She says she's untidy, stubborn and determined but has a good sense of humour. She's rarely at home and doesn't watch much television because she thinks life is for living.
We asked Suzanne to tell us some more about her working life.
What's your typical working day like?
I start between 7.00am and 7.45am, depending on my shift.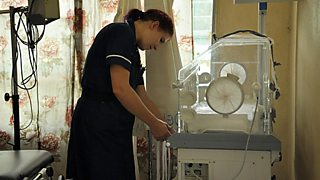 I have a handover. If I am in charge I allocate staff to patients, check the controlled drugs and order any more with a member of the night shift, also phone the wards to find out bed availability and if there are any ladies that need to be transferred to the labour ward and how many are going home.
I will then try and see any women I have allocated myself to look after, before the ward round with the on-call consultant.
I'm present for the Doctor's handover at 8 - 8.30am. I will then provide any care required for the ladies I am looking after or be available to support other midwives during the shift, try to ensure the theatre list runs effectively.
I answer any phone calls or buzzers, attend any emergencies, deal with sickness and staffing issues, check emergency equipment, go through birth notifications to ensure they have the correct information on them, and continue to see any women who attend labour ward or allocate other midwives to admissions.
My handover to the late shift is usually 1.00pm - 1.30pm, along with another update with the doctors.
What kit do you use in your job?
I always carry my pinard (a wooden ear trumpet for want of a better description!), pens, a tourniquet, a tape measure, a pocket torch and a gestational calendar in my pockets.
Tell us something about your job we would never know
There is a lot more to being a midwife than just delivering babies!
Tell us something you love/dread about your job
I love caring and supporting a woman through her labour and birth, making her feel that she is the most amazing person in the world to have given birth to her baby, and being in such a privileged position to be one of the first people to see their newborn baby.
Dread - sadly, when parents lose their babies. It is the best of jobs and the worst of jobs some days.
Best/Worst day on the job
Best - when everyone has a good shift, the midwives are happy and supported and the women and babies are all safe and well.
Worst - when it is horrendously busy with lots of problems, and you cannot give the care that you want to.