Main content
Kazran Sardick
Who is Kazran Sardick? During the events of A Christmas Carol we see different sides of this troubled individual.
| Fact title | Fact data |
| --- | --- |
| Also known as: | Sir/ Mr Sardick /Sardick's boy |
| Home: | Sardicktown |
| Random 'Yes!' Moment: | |
| Fact! | In later years, Kazran bore an uncanny facial similarity to his dad. |
| First Appearance: | |
| Most Recent Appearance: | |
Young Kazran is an engaging, kind and inquisitive lad who bitterly regrets his absence from school the day the fish came. All the other children have a story, but he is left with disappointment and second-hand tales. He visits the chambers where his father, Elliott, keeps his security - the relatives of clients - and becomes intrigued by Abigail...
New memories! How can I have new memories?

Kazran
The older Kazran is in love with Abigail. He's awkward and easily embarrassed but enjoys a number of unforgettable Christmas Eves with her and the Doctor, visiting Abigail's sister as well as California in 1952!
The older Kazran is a tyrant apparently unconcerned by the impending deaths of over 4000 people. A Scrooge-like figure surrounded by lackeys but loved by no-one, his encounter with the Doctor changes him and he becomes the man he could always be. Caring, kind and understanding, the Kazran Sardick who emerges from his adventure with the Time Lord is a figure of hope and compassion.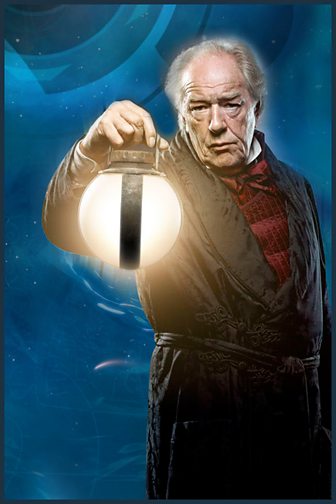 Related Content
The Doctor must save a crashing spaceship and a miser's soul - but what lurks in the fog?