Main content
Duncan Grant
Played by James Norton (1900s-1920s) and Rupert Penry-Jones (1930s-1940s).
Duncan is a sprite of a man. Charming, beautiful and entirely without malice, he lives in the moment with ageless vitality. He lives to paint and love, both of which he does with complete abandon, and in turn fails to recognise the emotional damage he has caused the countless men and women who have fallen unattainably in love with him.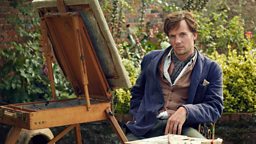 Rupert Penry-Jones as Duncan
About James Norton
James received great acclaim for his performances as crime solving vicar Sidney Chambers in the hugely popular Grantchester and psychopath Tommy Lee Royce in Happy Valley. He has also been seen in Death comes to Pemberley, Our Story, Restless and Doctor Who. 2015 will be another busy year for James; he will be starring in the BBC's adaptations of Lady Chatterley's Lover and War and Peace.
James's film credits include Belle, Bonobo, Mr Turner, Rush, Northmen: A Viking Saga, Angelica, and An Education.
About Rupert Penry-Jones
Rupert Penry-Jones is well-known for his roles as Adam Carter in Spooks, Clive Reader in Silk and DI Joseph Chandler in Whitechapel. He has also starred in The Strain, Black Sails, The Last Weekend, Treasure Island, The 39 steps, MI-5, Burn Up, Persuasion, Casanova, Cambridge Spies, Jane Eyre and Cold Comfort Farm. Rupert's film work includes A Little Chaos, Red Tails, Match Point, Charlotte Gray, The Four Feathers, Still Crazy, and Food of Love.
On stage Rupert has performed in The Priory, Power, Les Liaisons Dangereuses, Carlos, and Timon of Athens.