Main content
Joe Grundy
Joe often scoffs at his son's ducking and weaving, but really Eddie's just a chip off the old block.
| Fact title | Fact data |
| --- | --- |
| Played by | Edward Kelsey |
| Born: | 18 September 1921 |
| Status: | Widower |
| Occupation: | Retired tenant farmer |
| Lives at: | Grange Farm |
Joe's done his share of scamming in his time, including bottling 'natural' spring water from his own land and plagiarising like mad in his one-time Joe's Jottings slot on Radio Borsetshire.
His curmudgeonly demeanour hides a need for love and affection and he appreciates the attention of daughter-in-law Clarrie, who has always indulged his 'farmer's lung' and generally spoils him rotten.
Here Clarrie love, any more tea in the pot?

Joe Grundy
Likes - Clarrie's cooking, Vera Lynn, steak and kidney pie, cider
Dislikes - Hard work, the aches and pains of old age
Highs - The opening of a commemorative garden for his wife Susan
Lows - His breakdown after losing Grange Farm
Archers highlights
The loss of Grange Farm, which showed that the Grundy family was not just a band of comedy rogues but real people with real emotions.
Other career highlights
Standing in the centre of the BBC Scottish Symphony Orchestra following the score of a new opera by Christopher Whelan and recording speaking/singing duets with the principal baritone.
Edward Kelsey
It's not easy to imagine Edward - or Joe, the irascible patriarch of The Grundy Clan in The Archers - as a shellfish. But that, he was assured by his mother, was how he made his first stage appearance. As an oyster to be precise!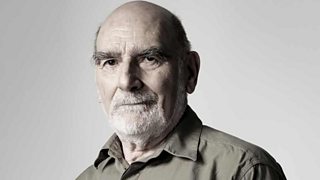 Edward was born in Petersfield, Hampshire in 1930 to a dressmaking mother. Her hobby was making fancy dresses for carnivals, and one of his earliest memories at the age of three was swallowing a safety pin when preparing to play a supporting role to The Ovaltine Girl in a carnival tableau. He had to eat a cotton wool sandwich as a result to ensure the offending pin's safe passage through his "system"!
Undeterred either by oysters or safety pins, the young Edward put on plays in his parents' front room to help raise money for the Red Cross. There was obviously parental blessing for this activity as the door to the room was taken off its hinges to enable a more dramatic entrance.
With the end of the war, youth clubs began forming, and taking part in a Nativity play made Edward realise that the theatre was his vocation in life.
Although ear-marked for a medical career, his studies were deferred for National Service. He was stationed in his native Hampshire and managed to get home every Wednesday afternoon to rehearse for local amateur dramatic productions, keeping his love of acting alive.
Before finally admitting to himself that he really wanted a career in theatre, Edward thought about taking up journalism and actually learnt shorthand. By this time he was already writing local drama reviews which gave him free entry to productions.
But the theatre it was to be, even though auditions for the Old Vic School were thwarted by its closure. A friend who was doing lighting at the Open Air Theatre near Petersfield, put Edward forward for an audition at the Royal Academy of Music. Despite having to walk 18 miles in pouring rain at the conclusion of his duties at the RAF base, he was accepted and the Forces agreed to give him an early release.
Edward took a three year Speech and Drama Teaching course, and in his final year won the acting Gold Medal and what is now known as the Carleton Hobbs Award - a six months contract with the BBC Drama Rep. It was, he recalls a golden time. Val Gielgud was Head of Drama, and BBC Radio was in its heyday, with radio actors and actresses household names.
When the BBC contract finished, Edward went on tour with Reluctant Heroes, having been offered the part by Sir Brian Rix, and then went into rep at Guildford playing everything from Jimmy Porter to Pontius Pilate.
Edward continued to work in Radio Drama and undertook a great deal of writing for BBC School Radio and Audio Drama Tapes, which included 10 original scripts for The A Team. He was also busy with television work. While at the BBC studios in Birmingham recording Anne of the Five Towns, he met, for the last time, his friend the late Haydn Jones, who suggested he would be ideal for a role in The Archers.
With real dramatic irony Edward took over Haydn's part in February 1985. His first appearance was terrifying. With two doyens of the series; Chris Gittins, and Bob Arnold.
He needn't have worried, as all went well and Edward became part of Ambridge. Not that life in The Archers excluded Edward's other activities. In Dangermouse, he was the voice for Colonel K and Baron Greenback. Edward has also appeared in The Vicar of Dibley and continues with voice over and film dubbing work. He is also proud to have recorded the descriptive commentary listened to by blind visitors to the Palace of Westminster.
Other work has included the Art Dealer in Girl in Hyacinth Blue (for the US, and filmed in Amsterdam) and Cardinal Campagio in Henry VIII. He also provided the voice for Mr Growbag in the Wallace and Gromit adventure Curse of the Wererabbit.
Edward's qualification at the Royal Academy of Music enabled him to sit on the examining board. For 30 years he was an examiner with the Associated Board on grade exams. For services to the profession, he was elected an Associate of the Royal Academy of Music in 1992.
Edward met his wife Birgit as a National Serviceman when she was on holiday from Sweden with her parents, at the time of the Festival of Britain in 1951. They were married in April 1955 and have three children; a son working in Scotland; another son in Greece, and a daughter who is press officer for a well known international property consultancy.
They have three grandsons in Scotland, and another in Norfolk. Edward's hobbies are wood carving and outside bonsai.
Favourite
Actor - The one with whom I have just played a perfect scene!
Book - David Copperfield (Probably the only book I have read more than once!)
Film - Det Sjunde Inseglet