Main content
After studying Cancer Biology at the University of Bristol, Patrick decided to pursue a career in wildlife filmmaking and was an integral crew member for a number of BBC productions including 'Frozen Planet'
and more recently 'Attenborough: 60 Years in the Wild'. He has also presented the BBC's online strand 'Zoo La La', a weekly show about weird and wonderful animal facts that launched the brand new BBC/YouTube platform, Earth Unplugged.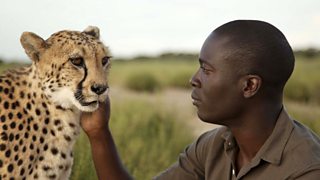 Patrick found sitting with a cheetah 'mind blowing'
Being a presenter is more than just being a face on TV, it's about being passionate about your subject.

Patrick Aryee
Patrick says of Super Senses:
I've always wanted to be a part of a series that could combine David Attenborough's knowledge of the wild and Brian Cox's fascination with science. Super Senses does this perfectly and in essence allows us to "take the lab into the wild". It's a fresh and exciting series that reveals something new about some of the creatures that we are so familiar with and that are close to our hearts. It was also a chance to push myself and face some of my biggest fears – like being surrounded by a swarm of killer bees…need I say more!
There were so many incredible interactions with animals that got my heart racing. Walking with a six-tonne African elephant was something I couldn't even comprehend even as I was doing it. Sitting next to my favourite and most regal of all cats, a cheetah, was mind blowing. And of course having the world's fastest animal, the peregrine falcon fly through my legs at blistering speed is an experience that doesn't come round everyday and will be hard to beat.
The golden mole for me was undoubtedly the surprise of the series. As I picked it up out of the sand and saw its shimmering golden fur, I was genuinely in awe of this little creature. Having eyelids that have fused together and completely covered over it relies almost entirely on its sense of hearing to picking up the faintest of sounds in order to find its food and survive in what is one of the harshest environments in the world. It was beautiful and well worth travelling into the hot Namib Desert and having all our filming kit blasted by magnetic sand.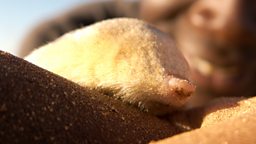 Patrick and a golden mole