Main content
Priya Mangat
Priya is 25 years old and a first year doctor. She studied at Imperial College London and Kings College London.
Priya's first job is in General Surgery – if she impresses her consultants then she'll be assisting them in theatre.
That first day in the hospital really meant a lot to me – it was the beginning of a big new chapter in my life

Priya Mangat
Family-girl Priya still receives food parcels from her parents. She's incredibly close to her loud and proud Punjabi parents and regularly rings her relatives for doctor-ly advice (both dad and brother are also doctors). At home, her housemates affectionately refer to her as 'Princess Priya'.
At the hospital, Priya is still adjusting to the long working hours. Trying to balance her old care-free life with her new commitments, Priya is finding it tough to make time for socialising.
Having never worked before, this is Priya's first taste of employment. It's therefore the first time she'll be getting paid – just as well because fashionable Priya has expensive taste in clothes and beauty products!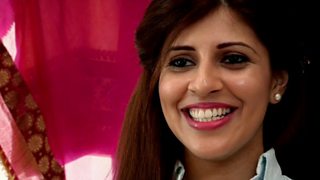 If she wasn't a doctor, Priya claims she would have become a Bollywood superstar (she was actually scouted by a film agency whilst on holiday in India). Whilst her dreams of being on the silver screen never materialised, Priya still does a good job of entertaining her friends and colleagues with her cheery banter.
Priya's Week One Diary
I kept waking up in the middle of the night thinking it was time to go to work. On the night before starting my new job I think it was a mixture of nerves and excitement that stopped me sleeping properly.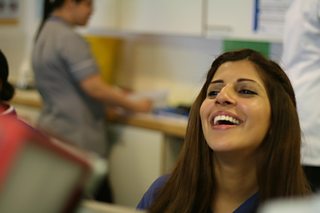 That first day in the hospital really meant a lot to me – it was the beginning of a big new chapter in my life. It was a bit like that feeling of being at school for the first time. First impressions? My team are really lovely – they even let me get involved in theatre on my first day which is pretty rare and not what I was expecting. Better still my registrar (supervisor) bought me lunch and at the end of the day said to me "Good job – you did well today". I felt a real sense of achievement.
As a junior doctor, the frustrating part is how long everything takes to get done. Medical school didn't prepare me well for a lot of the admin tasks and I still get lost around the hospital. The worst part about my job though is the long hours. I thought living in Chelsea would make it easier to see my friends – some of them live only 10 minutes away. After a long day at work I'm just too tired to see them.
This is the first time I've been in paid employment. Until now I've never had any money come into my account other than from my parents – I'm not even sure how much I'll be getting paid! I'll probably buy myself a new handbag and go for a massage. It'll be nice to spend money that I've worked for.
I had this really embarrassing incident the other day – I had to go and cannulate somebody late at night so it was quite dark on the wards... the name of the patient was quite ambiguous so I was addressing them as 'sir', but when I got closer and saw the name tag I realised it was a woman! The patient was quite drowsy so I don't think they realised.
In the next few weeks I'm really looking forward to properly settling into my job and getting better at it – particularly at becoming more efficient. I also want to explore this part of town more. I'm so glad the first week is over. The sleep I had on Friday night was the best I've had in ages.